2017 - 2018 Trip to Pick Up the New Escape 21 & More
Day 136
2011 Trip across the US
2012 Trip across the US
2014 Trip across the US
2015 Trip to Alaska
2015-16 Southwest Trip
2016 New England Trip
2016 - 17 Southwest Trip
Monday, December 18, 2017 - La Posa West LTVA, Quartzsite, AZ, Day 29, 0 Miles, 3,740.2 Towing Miles For the Trip
Happy birthday to my granddaughter Valerie. She is 10 today - a photo from 10 years ago: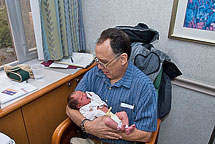 Papa Jon & Valerie, 12/18/07
I got a late start to the day. After the walk for coffee & breakfast, I checked to see how the progress on my order of a Nikon D850 was coming. I ordered one from Tempe Camera since I prefer real camera stores to the big box ones. I started out as #66 in line and am down to #22, so I'm still hoping one will become available before I head back to the East.
After that I checked with RV Lifestyles, and the parts for my awning came in. I drove over to pick them up, and stopped on the way back to buy the stuff to make a chicken stew for dinner.
The tilted solar panels are doing great. I started the day down 25 amp hours, and by early afternoon was back to full. I spent the afternoon sitting outside reading.
Dinner was chicken stew, with enough left over to make another meal plus one for the freezer. It wasn't bad for an experiment...
Until Tomorrow -
---
This page is maintained by: vermilye@oswego.edu
Last Update: December 19, 2017