2017 - 2018 Trip to Pick Up the New Escape 21 & More
Day 176
2011 Trip across the US
2012 Trip across the US
2014 Trip across the US
2015 Trip to Alaska
2015-16 Southwest Trip
2016 New England Trip
2016 - 17 Southwest Trip
Saturday, January 27, 2018 - La Posa West LTVA, Quartzsite, AZ, Day 69, 0 Miles, 3,746.2 Towing Miles For the Trip
Back to cool nights - down to 33°F overnight, although it warmed up to 67°F during the day. On the way to coffee, I saw the group of Vixens from a California club that comes for the RV show every year. An interesting RV.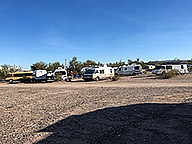 Vixen 21 RVs
After breakfast I headed to the Main Street Laundromat to do my usual 2 loads of laundry. I skipped the shower since I had one in the trailer the other day. I also purchased a tank of propane at Herb's Hardware (same price as everywhere in Quartzsite @ $2.20 per gallon, and no lines). So far, I've spent $80.81 on propane, $55.86 here at Quartzsite.
After folding the laundry, putting the propane tank back on the carrier, and sitting outside reading, I started an early dinner. I do have to include a photo of the bag of ice I picked up at the Parker Safeway the other day. Look closely at the lower left corner - a label that says "Keep Frozen". Now I know the lawyers for companies insist on all kinds of warnings, but telling the purchaser of a bag of ice to keep it frozen strikes me as a bit overboard!

Ice Bag
I cooked a pork tenderloin along with coleslaw (well, I didn't cook the coleslaw, although I did make it from bagged cabbage & Marie's Dressing. Not to bad, particularly when washed down with a glass of Zinfandel wine and finished off with Tillamook Old Fashion Vanilla Ice Cream.
Until Tomorrow -
---
This page is maintained by: vermilye@oswego.edu
Last Update: January 28, 2018