2017 - 2018 Trip to Pick Up the New Escape 21 & More
Day 209
2011 Trip across the US
2012 Trip across the US
2014 Trip across the US
2015 Trip to Alaska
2015-16 Southwest Trip
2016 New England Trip
2016 - 17 Southwest Trip
Thursday, March 1, 2018 - Joe Pool Lake Campground, Grand Prairie, TX - 247.6 Miles, 5,581.8 Towing Miles For the Trip
While the road noise was loud, it calmed down around 11:00PM. To the road & airplane noise, add trains. Not too bad except for one at around 4:00AM that decided to make lots of horn noise. Again, a usable overnight if you can deal with the noise.
I got an early start & hit the road by 8:45. I have to say while Texas is famous for oil, they have one of the largest wind fields I've ever seen along US 84. Hundreds of large multi megawatt windmills, although an entire field was feathered. Don't know if there was a problem or they were new, but with the heavy winds, it was a waste. Speaking of heavy winds, this was the first time I had to drive with both hands on the wheel to make up for the side gusts. The weather reports called for 40MPH winds, and I believe it! Things settled down when I hit I 20.
Other than the wind, a boring drive, mostly on I 20. It did get exciting when I got within 3 miles of Joe Pile Lake. Seems they are building new multi lane roads to service the large number of developments in the area northwest of the campground. My GPS was useless, and I probably annoyed a number of Texas locals wandering from lane to lane trying to find a way into the campground. The final blow was once I got through the new road mess, Matilda (the voice of my GPS) told me to turn into a dead end road 1/4 mile before the real park entrance.
I decided I'm far enough along on the drive to the Gunther Hill campground (home of the Green Eggs & Ham Rally I have reservations for starting on the 12th) that I can take a break from daily 200 mile drives to relax for the weekend. According to Matilda, I'm 794.1 miles from Gunther Hill. So, I booked my site until Sunday. Three days for $60.00. The site (149) is a back in across from the bathrooms with room for both the trailer & truck. Level side to side, but needing to unhook to level front to back, although if I didn't plan on a trip to a grocery store, I could have just used the tongue jack to level the trailer with the truck still attached. A water & electric site for $20.00 per night. Good AT&T & Verizon coverage, even without the amplifier, and there is even a NPR radio station that does a mix of news & classical music.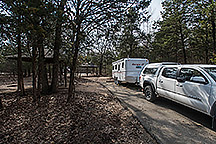 Site 149
The bathrooms may not be appreciated by the women (or, at times, men). Stainless steel toilets with no toilet seats. Can you say COLD when sitting? Other than that, typical bathrooms for county parks. Push button showers with a couple of hooks in the drying area, but no benches or shelves. I'll let you know if the water gets hot enough. The entrance station attendant did mention to push the shower button a number of times before you get hot water.
I made a run to a Kroger's that was, according to my GPS, 4 miles from the campground. Again, I ran into the new road construction, but eventually found the grocery store & the way back to the campground. The Krogers wins points for having both Jif cashew & almond butter, the first place I've found them in months. They even had Kendall-Jackson's Pinot Noir, a wine I liked better than some of the other Pinot Noir's I've tried. I bought a couple of bottles to take along. Of course, you probably shouldn't use my judgment for making a choice - I've never been considered a wine master!
I picked up some fried legs chicken & thighs at Kroger's for dinner. I should say I TRIED to pick up legs & thighs - like many other deli sections of grocery stores, they seem to have a problem telling thighs from breasts. So, on the one hand, I saved money getting breasts at thigh prices, but on the other hand, since I prefer thighs, I lost. At least they were greasy enough that they didn't seem too dry (a sad comment to make).
Back at the trailer I ate the chicken & a small tub of mac & cheese for dinner, with fresh strawberries for dessert. Still nothing like Oswego strawberries, but OK for store bought.
Until tomorrow -
---
This page is maintained by: vermilye@oswego.edu
Last Update: March 2, 2018