2017 - 2018 Trip to Pick Up the New Escape 21 & More
Day 212
2011 Trip across the US
2012 Trip across the US
2014 Trip across the US
2015 Trip to Alaska
2015-16 Southwest Trip
2016 New England Trip
2016 - 17 Southwest Trip
Sunday, March 4, 2018 - Lake Bistineau State Park, Doyline, LA - 238.7 Miles, 5,820.5 Towing Miles For the Trip
I was packed up & out of Joe Pool Lake by 9:00 this morning. Most of the drive was on I 20 across eastern Texas & western Louisiana, with two stops for gas. A wide range of prices, but Texas was less expensive.
Along the drive I saw lots of overflowing streams & ponds; my radar app shows flood watches for many of the Louisiana streams. The lake at Lake Bistineau is definitely full, with water almost up to the road in a couple of areas. Hopefully, it won't get much deeper or getting out of the campground might be a problem. There was a short bit of light rain after I set up, but now the sun is shining. Rain is predicted (80%) for tomorrow.
Speaking of the campground, it isn't very busy, just 4-5 RVs in the park. While about 20 miles from I20, the park had good reviews at RV Park Reviews, and is very quiet. I did have to wait at a railroad crossing for a long freight train to go by, but the tracks are far enough away that I don't believe there will be much in the way of train noise.
No one at the entrance station. I met the campground host while backing into a site. He called the ranger, who was at lunch to make sure the site I picked wasn't reserved, and after setting up I headed back to the entrance station to meet the ranger & register. I'm in site 59, a water & electric site a short walk from the bathrooms & laundry, for two nights at $24.60 per night. Some of the sites have wooden decks, but they are considered "Deluxe" sites & cost more. Mine is paved, no deck, has a fire ring, charcoal grill & picnic table. Level side to side, but required unhooking the trailer to level front to back.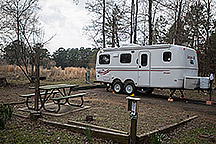 Site 59
Two bars of both Verizon & AT&T coverage without an amplifier; I didn't check the Verizon speed, but the AT&T is fast. There is WiFi at the campground office, but not at the sites. One additional perk that I haven't seen before - the laundry washers & dryers are free! While I didn't have a lot to do, I did have my flannel sheets, which almost make a full load in a standard washing machine, so I managed to find enough to fill both washers (and, dryers).
Dinner was Orange Chicken & rice.
Until tomorrow -
---
This page is maintained by: vermilye@oswego.edu
Last Update: March 5, 2018