2017 - 2018 Trip to Pick Up the New Escape 21 & More
Day 227
2011 Trip across the US
2012 Trip across the US
2014 Trip across the US
2015 Trip to Alaska
2015-16 Southwest Trip
2016 New England Trip
2016 - 17 Southwest Trip
Monday, March 19, 2018 - McKinney COE Campground, Allatoona Lake, GA, - 200.9 Miles, 6,560 Towing Miles For the Trip
Most of the drive was on I 85, although I took the Atlanta bypass ( I 285) which was 5 lanes of packed traffic at 2:00 in the afternoon. Speaking of time, I'm back in the Eastern Time Zone, which means my east coast internet radio stations will be playing at the real time. Actually, while in Arizona, I got used to listening to a couple of my favorite "late night" programs earlier in the evening.
I'm in site 71, a water & electric site at the McKinney Corps of Engineer's campground on Allatoona Lake for the next 3 days. $14 per night with the Senior Pass. Good AT&T coverage with a -105dBm signal without an amp & fairly fast data transfers. My iPad shows 3 bars of Verizon, again, without an amplifier, and acceptable data speed.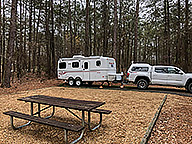 Site 71
There was some very light rain on the drive, so little that the wipers never got off the slowest intermittent setting, but the weather reports are scary, at least for a northerner. Thunderstorms, tornados, tennis ball sized hail, etc. The Atlanta NPR station says it is coming, but my radar app shows a somewhat clear slot over the campground. Right now it is showing a small round purple spot (a possible tornado indicator) heading for Carrollton, a town southeast of the campground. Not much I can do about it since I have to stop somewhere. I'll keep an eye on the radar app & head for the cement block bathrooms if it looks bad. I did leave the trailer connected to the truck to give it a bit more weight if it gets windy!
With the time zone change, I finished setting up around 3:00, so other than a quick look at the bathroom building, I haven't seen much of the campground. Lots of empty sites, although there are a few trailers in the nearby sites.
Dinner was a Marie Callender's Creamy Mushroom Chicken Pot Pie.
Until Tomorrow -
---
This page is maintained by: vermilye@oswego.edu
Last Update: March 20, 2018