2017 - 2018 Trip to Pick Up the New Escape 21 & More
Day 230
2011 Trip across the US
2012 Trip across the US
2014 Trip across the US
2015 Trip to Alaska
2015-16 Southwest Trip
2016 New England Trip
2016 - 17 Southwest Trip
Thursday, March 22, 2018 - Bolding Mill COE Campground, Gainesville, GA, - 66.9 Miles, 6,626.9 Towing Miles For the Trip
Another cool night, getting down to 35°F overnight. I got off to a slow start since I was only planning on a short hop today. I stopped at a Kroger's on the way for some groceries, and a Target looking for a stainless steel pie pan - not even an aluminum one! I did stop at a restaurant supply on the way, but while there were a bunch of vehicles parked outside, believe it or not, I couldn't find a door into the place! If I drive into Gainesville, I'll look for one there.
I picked out the Bolding Mill Corps of Engineer's Campground after reading reviews on RV Park Reviews (actually, finding the park with AllStays Camp & RV app, then linking to the RV Park Reviews). I checked on the availability of sites last night, and there were only three available for a three day stay. That always makes me a bit nervous - When the campground is 90% full, why are these sites left? Usually they are the sites that the locals know are hard to get into, unlevel, or otherwise undesirable. Still, the photo looked good, so I booked it on line. I'm in site 73, a water & electric site for $16.00 per night with the Senior Pass discount. As my site photo shows, a very nice site overlooking the lake.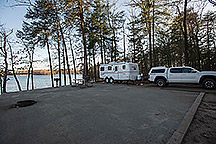 Site 73
A check of AT&T shows a -105dBm signal without an amp, providing 1Mbps down & 2.3Mbps up, fast enough for reading blogs and non graphic web pages. A bit slow for heavy graphics pages or video streaming. My Verizon Jetpack shows a -96dBm 4G LTE connection without an amp that is a bit faster at 2.5Mbps up & 2.9Mbps down.
As long as I'm doing campground reports, I might as well do the showers. Excellent layout, with a good showerhead, hot water, bench, lots of hooks, a dry floor in the drying area & 2 shower curtains. The only bad is no room heat (or if there is, it is sneaking through a grill near the ceiling that doesn't reach the shower area). 50°F makes for fast drying!
I spent much of the afternoon looking up waterfall locations & punching them into my GPS. If the weather looks good, that is the plan for tomorrow.
Dinner was a grilled turkey Bubba burger & coleslaw.
Until Tomorrow -
---
This page is maintained by: vermilye@oswego.edu
Last Update: March 23, 2018