2017 - 2018 Trip to Pick Up the New Escape 21 & More
Day 243
2011 Trip across the US
2012 Trip across the US
2014 Trip across the US
2015 Trip to Alaska
2015-16 Southwest Trip
2016 New England Trip
2016 - 17 Southwest Trip
Wednesday, April 4, 2018 - Triple Creek Campground, Newport, TN - 80.8 Miles, 6,912.4 Towing Miles For the Trip
A warm night - 70°F when I went to bed, and 60°F when I woke up. We did have some overnight rain, even a bit of thunder, but all that was left by 10:00 when I broke camp was a few drips off the trees.
The drive on I 26 was interesting. They are doing tree clearing just after the left lane ends, and the trucks are in the right lane, leaving only one lane for traffic. When I was on my way home from the Blue Ridge Parkway yesterday I noticed that the north bound side of the interstate was at a dead stop for over 5 miles, now I know why. Less traffic today, so we never actually stopped, but a few miles of 5MPH driving.
I 26 turned onto I 40, which wound its way through the Smokey Mountains at 55MPH. All in all, it took me 2 1/2 hours to do the 80 miles to the Triple Creek Campground. While the campground didn't have great reviews, it closed since the last review, and has been reopened with new owners. While not a resort, it is more like a state park than Apple Valley or many of the other commercial campgrounds I've stayed at. I'm in site 48, a water & electric site for $40.59 with taxes & a Good Sam discount. I'll have to get used to spending more than usual for sites, at least here in the east. Not much in the way of free or inexpensive campsites! I'm still under $15.50 per night for the trip average.
The site is backed by a small, gurgling stream. A combination of gravel & grass (and dirt) but fairly level. I could have stayed hooked up, but since I'm here for 4 days, I decided to unhook and level the trailer. I would have been a bit more on the gravel if I had a longer trailer or pulled more towards the front of the site, but the utilities were on the wrong side for a trailer, and I wanted to hear the sound of the stream, so I parked towards the back of the site.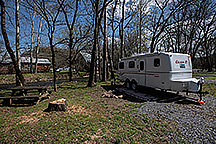 Site 48
Very clean bathrooms with showers, and heat, which is appreciated since the outside temperature has dropped 20°F since yesterday. A -103dBm AT&T LTE signal, 20.1Mbps down & 19.2Mbps up without an amplifier. Not quite as fast as it was at Apple Valley, but acceptable. The Verizon 4 bar 4G LTE signal, again without an amplifier is at -105dBm, 16.7Mbps down & 11Mbps up. The park has free WiFi that is 7.4Mbps down & 11.5Mbps up.
After setting up I goofed off for the rest of the afternoon.
I decided I didn't want to cook for dinner (if you could call what I've been doing cooking) so I headed next door to Janice's Diner. I ordered popcorn shrimp, a corm muffin, fries & greens, and while it was OK, the shrimp were the strangest I've ever had. The actually looked like popcorn - no tails, and round, breaded lumps. Inexpensive - with sweet tea, the entire dinner was under $10.00.
Until Tomorrow -
---
This page is maintained by: vermilye@oswego.edu
Last Update: April 5, 2018