2017 - 2018 Trip to Pick Up the New Escape 21 & More
Day 256
2011 Trip across the US
2012 Trip across the US
2014 Trip across the US
2015 Trip to Alaska
2015-16 Southwest Trip
2016 New England Trip
2016 - 17 Southwest Trip
Tuesday, April 17, 2018 - Townsend KOA, Townsend, TN - 9.1 Miles, 6,991.7 Towing Miles For the Trip
This morning was one of the coldest of the trip; 32°F at midnight, and down to 28°F at 6:30. While the Escape 21 has a short run of plumbing (both hot & cold water) exposed to the cold running to the kitchen sink, they are close to the floor, and had no problem freezing. While it started off last night with only one other trailer in the "C" section of the campground, a couple more moved in, including an Escape 19 from Vermont. Still pretty empty!
I took my time packing up since I was only moving to Townsend, around 9 miles away. I left Cades Cove around 12:15 and pulled into site 55 at the Townsend KOA around 1:15 (There was a long wait at the construction site on the road).
Site 55 is a full hookup, including cable "Deluxe Patio Site" for $44.67 per night including multiple taxes (the listed price was $39.00 per night). The patio is nice, and includes a table with 4 chairs & a fire pit.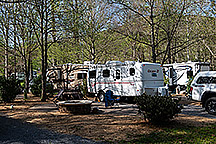 Site 55
After setting up I headed to the local Ace hardware for propane ($2.49 per gallon) and the IGA for milk & dinner supplies. I'm not sure if it is part of the Ace Hardware store, or just next door, but there is an RV sized car wash and laundry next to the hardware store. One of the bays has 17' clearance, and a ladder/stairway on the side of the bay that can be used to reach the roof, while the rest have 12' to the swivel brush. I wish I had discovered it on the way into the campground - other than some hand scrubbing, the trailer has not been washed since I picked it up.
Speaking of dinner, it was a steak, corn on the cob, and Bush Beans.
Until Tomorrow -
---
This page is maintained by: vermilye@oswego.edu
Last Update: April 18, 2018