2017 - 2018 Trip to Pick Up the New Escape 21 & More
Day 264
2011 Trip across the US
2012 Trip across the US
2014 Trip across the US
2015 Trip to Alaska
2015-16 Southwest Trip
2016 New England Trip
2016 - 17 Southwest Trip
Wednesday, April 25, 2018 - Fredericksburg KOA, VA - 318.8 Miles, 7,479.3 Towing Miles For the Trip
We still had some rain overnight, but not much while unhooking the trailer utilities in the morning. It rained off & on during the drive. I usually make my second stop at Natural Chimneys County Park in Mt Solon, but decided to try for something new. Lake Anne State Park, VA looked interesting and Reserve America showed lots of open sites for tonight when I looked last night. So many, that I didn't bother to make a reservation. Big mistake. It seems the park is a "Reserve Only" park, one of the few I've run into. No one in the office, no campground host, and no envelopes or slots to do an overnight. So many empty sites, but no way to book one. Surprising for a state park.
I eventually left & headed to the nearest commercial campground that my AllStays app found, the Christopher Run Campground. Again, no one in the office, but there was a list of empty sites on the door. They had a range of prices for the water & electric sites that went from $38 - $44.00 per night, but no way to tell which was which. On top of that, all the available sites were very unlevel, dirt back ins. I don't mind backing in, but these were so unlevel that I'm not sure I could level the trailer, even unhooked.
So, I headed out again. I was putting on the miles. The Lake Anne State Park was a little over my usual drive at 268 miles, but by the time I got to a place to stay, I had towed 318.8 miles, the longest towing day of the trip. The good news is it is only 75 miles or so to Greenbelt National Park, where I'm heading tomorrow. I'm in the Fredericksburg, VA KOA. I don't usually stay at KOAs unless it is for a rally, but I was tired of finding bad campgrounds. I'm in site 3, a water & electric site with 68 TV channels (of course I don't have a TV) and fast, free WiFi, which is good because the AT&T is very slow, and Verizon just passable. $43.67 for the night for a site level enough that I didn't need to unhook.
By the way, I lied about the KOA WiFi. While it started out OK, it is now stalling on every upload. I switched to an amplified Verizon which shows -102dBm of 4G LTE.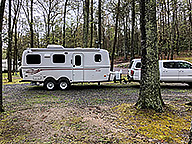 Site 3
By the time I got settled, it was 4:30. I headed for a shower, then microwaved a Boston Market Orange Chicken dinner.
Until Tomorrow -
---
This page is maintained by: vermilye@oswego.edu
Last Update: April 26, 2018