2018 - 2019 Trip
Day 33
2011 Trip across the US
2012 Trip across the US
2014 Trip across the US
2015 Trip to Alaska
2015-16 Southwest Trip
2016 New England Trip
2016 - 17 Southwest Trip
2017 - 18 Trip to Pick Up a New Escape 21 Trailer & More
Thursday, September 6, 2018 - Great Sand Dunes National Park, CO, 169.1 Miles, 3,530.4 Miles for the Trip
We got an early start and stopped in Pueblo, CO for gas & propane. A good price on propane at $2.19 per gallon, at least compared to Dakota Ridge, where they wanted $3.75.
We drove through loop 1, and didn't find 2 nearby sites that would fit the trailers and were not reserved. In loop 2, there were two sites that looked like they would work, but while Don & Anne managed to fit & level the Scamp in site 62, I couldn't level the Escape 21 in site 65, even stacking all the Lego blocks from the front storage bin under the low side. I found site 71 was just large enough, and level enough that with the Anderson leveler & one of the new 4" levelers both under one side, I was close enough. Both are dry sites for $10.00 each using the Senior pass. Actually, there were quite a few one night sites available, but most were too small or very unlevel. I have a great view of the dunes out the back window.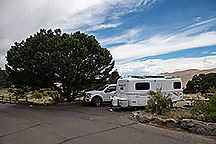 Site 71
After setting up, we headed to the visitor center for pins, "T" shirts, and a hat for Anne. After that it was down to the parking lot for walking on the dunes. While we didn't climb the dunes, we did get a bunch of photos of the dunes & some deer along the road. I had to move a log on the sand flat to get more of the dunes in the background, but the clouds were wonderful.
| | | | |
| --- | --- | --- | --- |
| | | | |
| The Dunes | The Dunes & a Log | The Dunes & a Log | A Buck |
| | | | |
| Three Bucks | A Buck | | |
Some panoramas of the dunes:
After that we headed back to our trailers. Anne is making something with left over shrimp & pasta, and we will finish off yesterday's chicken for dinner. We will probably eat here in my trailer since it is quite windy and cooling fast outside. The weather report called for 44°F tonight. Glad I filled the propane tanks, because I suspect the furnace will be running towards morning!
While Don & Anne were heading over to the trailer, some beautiful light appeared on the dunes, caused by an approaching storm. I also caught a couple of long telephoto images of a couple of riders heading out of the storm.
Approaching Storm Lighting
Coming For Dinner
Riders (Well, They Are Walking the Horses)
Approaching Storm Lighting
Until Tomorrow -
---
This page is maintained by: vermilye@oswego.edu
Last Update: September 7, 2018