2018 - 2019 Trip
Day 77
2011 Trip across the US
2012 Trip across the US
2014 Trip across the US
2015 Trip to Alaska
2015-16 Southwest Trip
2016 New England Trip
2016 - 17 Southwest Trip
2017 - 18 Trip to Pick Up a New Escape 21 Trailer & More
Saturday, October 20, 2018 - City of Rocks State Park, Deming, NM, Day 4, 0 Miles, 5,526.3 Miles for the Trip
Well, the class C in one of the first come sites started packing up, and since the volunteer that checked me into the host site for the weekend told me I could move to the first available first come site, I packed up the trailer & headed to site E5. When I got there the ranger let me know that someone else had already paid for the site. Seems a different volunteer let someone else have the site. Oh well, I am no better or worse off than I was before the attempted move, although I did have to break down & set up for nothing. I can't really blame anyone since it was different people, and they don't really do reservations on the first come sites. I can still move to a dry site on Monday, although my favorites are still filled.
A warm, but windy day. 70°F at 12:30, but a bit too windy to sit outside. The clouds are heavier than yesterday; little sunshine. So far I spent the day reading. Current book - J. A. Jance's Remains of Innocence. I swear I've read it, but it isn't in my "read books" database. I did lose a bunch of records a few years back - that might be the reason. Almost like a new book with just vague hints of what is coming.
I got email & a text message from Verizon letting me know I have used 90% of this month's allotment of data on my Jetpack (15GB before it slows down to 600KB for the rest of the month). Not a real problem other than inconvenience since I still have unlimited on the phone & iPad. Both can be hotspots, and while the phone has the same speed reduction after 15GB, at least according to the Verizon website, the iPad does not have any data limit reduction. I'm using the phone now, and it is well under 1GB. Seems a bit silly on Verizon's part since I'll be using the same amount of data, just on different devices. AT&T's restrictions make more sense - after 22GB, they slow you down only on congested towers. While I've never been slowed down on AT&T, even after using 40GB, I can't use them here - no AT&T service other than very spotty phone service. I got a voice mail that I couldn't understand, and can't originate phone calls. Of course none of this makes much sense since both networks call their data service "Unlimited", and all their services are limited.
Well the site problem has been solved. The person who paid for site E5 never showed up. The office called & they didn't call back, so the site went to the next person in line - ME! I'm now parked in site E5 until Monday, the 29th. Same view out the back window, and a bit closer to the bathrooms & showers. You probably can't tell the difference, but I included a new site photo anyway.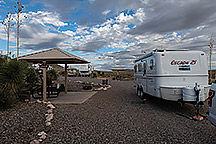 Site E5
Since it is still fairly warm out (although windy), I decided to attempt grilling a Beyond burger along with some Bush Bourbon & Brown Sugar Beans, and a cling peaches cup.
Until Tomorrow -
---
This page is maintained by: vermilye@oswego.edu
Last Update: October 21, 2018