2018 - 2019 Trip
Day 92
2011 Trip across the US
2012 Trip across the US
2014 Trip across the US
2015 Trip to Alaska
2015-16 Southwest Trip
2016 New England Trip
2016 - 17 Southwest Trip
2017 - 18 Trip to Pick Up a New Escape 21 Trailer & More
Sunday, November 4, 2018 - Big Bend National Park, TX - 146.1 Miles, 6,034.6 Miles for the Trip
An uneventful drive to Big Bend National Park. I stopped at Alpine to pick up some water & ice cream. It reached the 70's on the way to Big Bend, and is now (at 5:30 maybe my phones say 4:30 and think I'm back in Mountain time) 81°F. At Panther Junction, all the campgrounds show available sites, even the parking lot with hookups at Rio Grande Village. While I'd like to be as Chisos Basin, the sites there are pretty small for my 21. They have a 20' limit on trailers, and while my 21 is actually the equivalent of an 18' stick built trailer (fiberglass manufacturers include the tongue in the measurement while stick built only include the body), I remember that most of the sites barely fit my 17.
I drove to the Rio Grande Village dry campground. Lots of open sites. I'm in site 72, a pull through dry site for $7.00 per night with the Senior Pass discount. Close to the bathrooms, but around 3/4 of a mile to the store, showers & laundry & WiFi. No cell service (or FM radio) here at the campground, so my entertainment will have to be my XM Radio.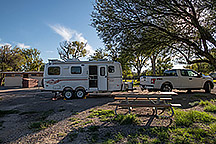 Site 72
I tried setting up the NanoStation (a WiFi relaying radio) and while it did connect to the store WiFi, it is too far away through the trees to make a usable connection. I will still have to walk over to post pages.
After the frustration of trying to set up the WiFi system, I decided dinner will be simple - a chicken sandwich & salad.
Until Tomorrow -
---
This page is maintained by: vermilye@oswego.edu
Last Update: November 5, 2018