2018 - 2019 Trip
Day 102
2011 Trip across the US
2012 Trip across the US
2014 Trip across the US
2015 Trip to Alaska
2015-16 Southwest Trip
2016 New England Trip
2016 - 17 Southwest Trip
2017 - 18 Trip to Pick Up a New Escape 21 Trailer & More
Wednesday, November 14, 2018 - Seminole Canyon State Park, Comstock, TX, 219.4 Miles, 6,254 Miles for the Trip
Last night was the coldest of the trip, maybe even the coldest I've had in the Escape 21. It was down to 32°F by 11:00PM, and during the early morning hours, 23°F. Around midnight I turned up the furnace thermostat to 60°F to keep the pipes from freezing. I guess it worked - the water ran OK in the toilet & sinks. It was still below freezing as I packed up the trailer at 9:30AM, and didn't hit 50F until well down US 90, heading to Del Rio. Once I had phone service, I called the Ford dealer in Del Rio (Cecil Atkission Ford Lincoln), and left a message with the service manager asking for a first service on my F 150. Unlike my previous vehicles, the Ford gives you a percentage until needing an oil change, and mine is at 10%, the point where Ford suggests you start looking for a dealer. Unfortunately, they didn't call back. If I don't hear from them, I'll see if I can stay an extra day at San Antonio and find a dealer there. The plan is to get my laptop checked at the Apple Store in San Antonio. When I tried to use the Ethernet connection, it didn't work. Either the adapter or both thunderbolt ports are bad & I'd like to find out which while it is still under Applecare.
I stopped for the day about 30 miles from Del Rio at the Seminole Canyon State Park in Comstock, TX. $20.00 for an electric & water site plus a $5.00 per person entry fee for a total of $25.00. I'm in site 31, an almost level pull through (I didn't have to unhook). It is on top of a hill, with great views in every direction If the skies stay clear, it should be good for star gazing, although it is expected to get down to 34°F overnight, so I might not spent too much time outside.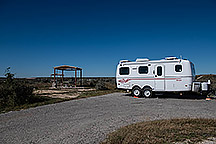 Site 31

Fast, but weak AT&T coverage, both phone (2-3 bars) & data (-111dBm with amp). No Verizon connection, either phone or Jetpack. I did discover a strange message on my Verizon phone when I checked it here in the campground. "Your LTE voice has been disconnected". It might have appeared there on the drive to the campground, along which there were a couple of towns with Verizon coverage.
Dinner was a chicken pot pie.
Until Tomorrow -
---
This page is maintained by: vermilye@oswego.edu
Last Update: November 15, 2018