2018 - 2019 Trip
Day 104
2011 Trip across the US
2012 Trip across the US
2014 Trip across the US
2015 Trip to Alaska
2015-16 Southwest Trip
2016 New England Trip
2016 - 17 Southwest Trip
2017 - 18 Trip to Pick Up a New Escape 21 Trailer & More
Friday, November 16, 2018 - Tejas Valley RV Park, San Antonio, TX, Day 2 - 0 Miles, 6,435.2 Miles for the Trip
Reasonably quiet for a RV park in the city. The road construction stopped around 5:00, and the traffic calmed down around 8:00. Lots of lighting - my back window glows, even with the shades down!
I drove to the Apple store, waited 2 hours to get an appointment with the Genius Bar, and discovered that there is nothing wrong with my Ethernet adapter or the Mac's ports. The reason it didn't work has to be a problem with the Ubiquiti NanoStation. I stopped for gas on the way back to the campground - about the cheapest of the trip at $2.18 per gallon, and some grilled chicken for dinner.
Here is the site photo I couldn't take yesterday: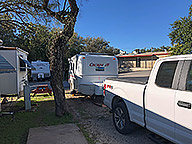 Site 50
As I noted, a bit tight, but typical of city RV parks. Most of the sites seem to be fairly permanent with porches, decks, etc.
I did laundry here at the park - $2.00 each for wash & dry, and took a shower next door while the dryer was running. Plenty of hot water, good shower head, difficult to adjust control, 1 hook, a shower curtain, but water ran into the drying area anyway. There was a bench. I guess I'd have to call it average...
As mentioned, dinner was grilled chicken.
Until Tomorrow -
---
This page is maintained by: vermilye@oswego.edu
Last Update: December 25, 2018