2018 - 2019 Trip
Day 108
2011 Trip across the US
2012 Trip across the US
2014 Trip across the US
2015 Trip to Alaska
2015-16 Southwest Trip
2016 New England Trip
2016 - 17 Southwest Trip
2017 - 18 Trip to Pick Up a New Escape 21 Trailer & More
Tuesday, November 20, 2018 - 60 North RV Park, Bay City, TX - 108.9 Miles, 6,652.5 Miles for the Trip
It warmed up overnight, hitting 52°F by morning. I packed up the trailer, stopped at the bathroom & met a couple of the park maintenance crew photographing the vice grip hot water handle in the shower. The original handle disappeared last week. When they asked for the money to buy a replacement handle, someone said why? So, their plan was to email the photo to the money people.
A quiet drive to Bay City on US 59, TX 111 & TX 35 plus a short stint on TX 60 to the 60 North RV Park. A fairly typical city RV park, although more room between sites. No grill or picnic table, but level concrete pads, a full hookup back in site (#62) for $36.00 per day with a Good Sam discount. I'm here for 5 days, after which my site becomes available at the Matagorda Bay Nature Park & the Matagorda Madness rally.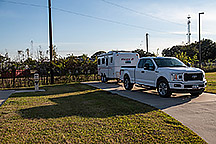 Site 62
Anne sent my trailer registration & Medicare card care of General Delivery here at the Bay City Post Office. I hope it arrives before I leave, but if not, is is only 30 miles or so between Bay City and the Matagorda Bay Nature Park. I already have to come back after Monday; an order I had shipped to the Bay City Walmart was suppose to arrive on Friday, but I just received a notice that it is delayed until at least Monday.
After setting up, I headed to HEB for some supplies & the lowest gas prices in town ($2.21.9). I'm still getting used to putting over $50.00 at a time in the tank - 23.7 gallons today). Still, I go a long time between fill ups, so overall, while the average price of gas is up compared to last year, I'm getting better mileage, so overall it isn't all that much more, just more at a time...
I made a ham sub for lunch, so dinner will be just a salad.
Until Tomorrow -
---
This page is maintained by: vermilye@oswego.edu
Last Update: November 22, 2018