2018 - 2019 Trip
Day 113
2011 Trip across the US
2012 Trip across the US
2014 Trip across the US
2015 Trip to Alaska
2015-16 Southwest Trip
2016 New England Trip
2016 - 17 Southwest Trip
2017 - 18 Trip to Pick Up a New Escape 21 Trailer & More
Sunday, November 25, 2018 - Matagorda Bay Nature Park, TX, 29 Miles, 6,681.5 Miles for the Trip
A short 29 mile drive from Bay City to Matagorda. I stayed at 60 North RV Park long enough to take a shower, then headed out. TX 60 goes between Bay City & Matagorda, so there wasn't too much for the GPS to do getting me here.
While all sites are full hookup, there are 3 price levels - RV full hookup - $27, RV preferred - $32, RV waterfront - $37 and RV pull through - $37. The standard full hookup sites are along the road. Since the road ends 500' past the campground entrance, traffic noise isn't a problem, but they were all booked when I went to Reserve America 6 months ago. I'm in site 42, a preferred site 2 rows back from the waterfront sites. There is a $6.00 reservation fee, and a $2.00 per day park entrance fee (discounted from $5.00 because I'm over 65). So, with all that together, the daily cost for the week is $34.86. Level (all directions) site with a concrete picnic table & fish hanger. No grills or fire pits.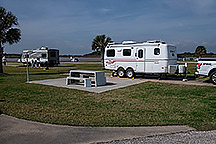 Site 42
After setting up I walked to the office to register, and found a sign stating registration was at the visitor center at the opposite end of the campground. The bathrooms & laundry still have the same door codes they had 2 years ago. I walked down to the visitor center & paid my $14.00 entrance fee (not collected by Reserve America). The cattle drive went through last week, so I missed it. Here is a link to the one 2 years ago. Fun to watch!
After finishing setting up I got out the grill, planning to do a Beyond Burger cheeseburger for dinner. Not sure that is going to work - it is very windy. The sun popped out for a bit, but most of the day was foggy & cloudy. Temperatures are not too bad - a high of 75°F & 72°F right now at 4:00.
I'm the first fiberglass trailer to arrive. The park was full over the weekend, but many left today. Still a number of "sun blockers" spread out across both sections of the campground (there is a South & North section with the bathrooms & laundry in between them; I'm in the South.
I found an NPR station based out of Houston. So far, appears to be a news & talk station, but the weekends are hard to tell formats. Not sure why I couldn't pick it up in Bay City since that was closer to Houston, but I'm not complaining.
The wind died down enough to cook a Beyond Burger, so that, with applesauce was dinner. As I finished eating, another Escape 21 pulled in. They did not have a good trip getting here - 2 blowouts on the trailer!
Until Tomorrow -
---
This page is maintained by: vermilye@oswego.edu
Last Update: November 26, 2018