2018 - 2019 Trip
Day 120
2011 Trip across the US
2012 Trip across the US
2014 Trip across the US
2015 Trip to Alaska
2015-16 Southwest Trip
2016 New England Trip
2016 - 17 Southwest Trip
2017 - 18 Trip to Pick Up a New Escape 21 Trailer & More
Sunday, December 2, 2018 - Top of the Hill RV Resort, Boerne, TX - 307.2 Miles, 6,988.7 Miles for the Trip
It started out as an uneventful trip, but as I drove through San Antonio on I 10, a high pitched squeal came from the radio, at least that is what I thought. Drove me crazy, and I sure was wishing is was some other day than Sunday as I drove by a Ford dealer. I stopped at a campground about 20 miles past the dealer, and tried everything I could to stop the noise. Loud enough that it hurts the ears, and does not shut off with the ignition. I pulled the fuses for the radio, entertainment center and audio amplifier, and it didn't stop. It sounds like it is coming from behind the display rather than the speakers. It also shuts off during the time I'm driving under a bridge. No idea what it is, but I'm going to need some ear plugs!
I'm in the Top of the Hill RV Resort a short way West of San Antonio, TX, site 56. A full hook up site on dirt, with a picnic table for $40.50 with a Good Sam discount. It is across from the bathrooms & laundry, so while I didn't have my usual basket full, I did a load of laundry. $1.00 wash & $1.50 dry, although I had to run the dryer an extra cycle to get everything dry.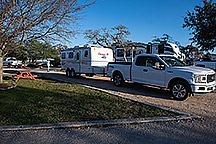 Site 56
Dinner was a first - Innovasian's Orange Chicken. One of the best frozen microwaved versions I've had. Little in the way of Chinese vegetables - lots of broccoli, but good sized pieces of chicken, a nice sauce.
I opened the door to the truck, and the squeal is gone! I sure hope it doesn't come back tomorrow...
Until Tomorrow -
---
This page is maintained by: vermilye@oswego.edu
Last Update: December 3, 2018