2018 - 2019 Trip
Day 122
2011 Trip across the US
2012 Trip across the US
2014 Trip across the US
2015 Trip to Alaska
2015-16 Southwest Trip
2016 New England Trip
2016 - 17 Southwest Trip
2017 - 18 Trip to Pick Up a New Escape 21 Trailer & More
Tuesday, December 4, 2018 - Siesta RV Park, Las Cruces, NM - 288.2 Miles, 7,544.6 Miles for the Trip
I lied about the road noise from I 10 at the Fort Stockton RV Park. It is noticeable; I must have had the radio turned up enough to mask it. After shutting it off, you could hear most of the trucks, and even some cars. It did slow down after 11:00...
I spent the entire drive on I 10 to Las Cruces, New Mexico (with a short stop at the Fort Stockton Walmart. Gas at Walmart was $2.60, the cheapest in town. Prices go up most of the way to El Paso, then make a big drop ($2.08) just outside the city. Terrible traffic through El Paso, TX, with lots of construction & lane changes. I can't imagine what it is like during rush hour since I went through at 1:30 in the afternoon.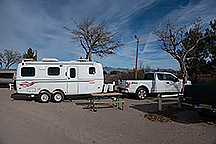 Site 39
I'm in site 39, a water & electric site on gravel towards the back of the park for $32.00 with a Good Sam discount. They have cable TV & free WiFi that I didn't attempt to use - good AT&T & Verizon coverage.
I've been doing more miles than usual because Apple moved up the date I'm picking up a new computer in Phoenix, AZ. The original date was the 11th, now it is the 5th. They will hold it for 21 days, so I don't need to get there tomorrow. I know that if I arrived on the previously scheduled December 11th, that is still within the 21 days, but hey, it is a new toy!
I'll also be stopping at an Amazon locker for a package. If everything goes as scheduled, I should be able to pick up both on the 6th.
Dinner was a microwaved Eating Well Creamy Pesto Chicken. Very good!
Until Tomorrow -
---
This page is maintained by: vermilye@oswego.edu
Last Update: December 5, 2018