2018 - 2019 Trip
Day 124
2011 Trip across the US
2012 Trip across the US
2014 Trip across the US
2015 Trip to Alaska
2015-16 Southwest Trip
2016 New England Trip
2016 - 17 Southwest Trip
2017 - 18 Trip to Pick Up a New Escape 21 Trailer & More
Thursday, December 6, 2018 - Triple T Mobile Home Park, Glendale, AZ - 128.9 Miles, 7,957 Miles for the Trip
I passed Picacho Peak on I 10 between Tucson & Phoenix. Very distinctive mountain. I can't believe I climbed to the top a few years ago. Not sure I could do it today - you have to pull yourself up some rock faces on a piece of wire rope! A very light rain for the last 1/3 of the drive. Heavy clouds here at the park, but the rain stopped. It is predicted to rain overnight & tomorrow.
Anyhow, I'm in site 94 at the Triple T Mobile Home Park. Not my favorite type of park, but it was in the middle of the various stops I had to make. A full hookup site on a combination of concrete & gravel for $39.00 per night (no discounts). I'm glad I carry an adapter - only a 50 amp receptacle at the pedestal. It was the only site left in the park. Close to the bathrooms, that require a code to enter - they use the last 4 digits of your phone number & as of this afternoon, it isn't working.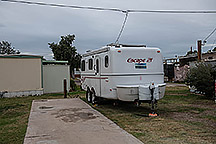 Site 94
After setting up I spent the afternoon driving around the suburbs of Phoenix. I picked up my new MacBookPro at Apple Arrowhead, then headed to an Amazon locker to pick up a new meat thermometer. I suspect the last one is sitting on a picnic table somewhere.
I'm posting this a bit early, because I'm going to attempt to transfer everything from this Mac to the new one. Hopefully, it will work, but I suspect it is going to take most of the night.
Dinner will be a chicken patty & peaches.
Until Tomorrow -
---
This page is maintained by: vermilye@oswego.edu
Last Update: December 7, 2018