2018 - 2019 Trip
Day 128
2011 Trip across the US
2012 Trip across the US
2014 Trip across the US
2015 Trip to Alaska
2015-16 Southwest Trip
2016 New England Trip
2016 - 17 Southwest Trip
2017 - 18 Trip to Pick Up a New Escape 21 Trailer & More
Monday, December 10, 2018 - La Posa West, Quartzsite, AZ, Day 3 - 0 Miles, 8,082.2 Miles for the Trip
Another cool night & cloudy day at Quartzsite. I did swivel the trailer a few degrees & tilted the solar panels. That dull spot between them is the sun. Tilting did almost double the panel output with the heavy clouds to 4 amps, but at the end of the day I'm still down 10 amp hours. Let's hope for sun tomorrow!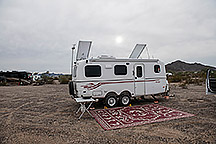 Tilted Panels
That was about it for the day. I did drive to town for a loaf of bread & some cottage cheese. As I mentioned, there are two grocery stores, The Roadrunner & The General Store. The General Store seems to have better meat, while the Roadrunner has a better overall selection of groceries, particularly fruit & vegetables. In any case, I usually stop at both. There is also a Family Dollar & Dollar General in town, both of which seem to have more groceries than most of the usual dollar stores. I generally don't bother with them, but they are there. There is also a booth that sells outdated food & over the counter drugs in the vendor area. I don't know if they actually went out of business as they were advertising last year, but the stuff they sold looked pretty bad.
I tried sitting outside, but without the sun and at 62°F, and a light breeze, it is just too cold. The inside of the trailer, ever my larger 21 does get a bit confining so I like to sit outside, but today wasn't a good day for it.
I had a good sized hot lunch, so dinner will be just a salad.
Until Tomorrow -
---
This page is maintained by: vermilye@oswego.edu
Last Update: December 11, 2018