2018 - 2019 Trip
Day 132
2011 Trip across the US
2012 Trip across the US
2014 Trip across the US
2015 Trip to Alaska
2015-16 Southwest Trip
2016 New England Trip
2016 - 17 Southwest Trip
2017 - 18 Trip to Pick Up a New Escape 21 Trailer & More
Friday, December 14, 2018 - La Posa West, Quartzsite, AZ, Day 7 - 0 Miles, 8,082.2 Miles for the Trip
I climbed out into the frozen (well, 42°F) night to watch the Geminid Meteor Showers last night around 10:30. Saw lots of meteors, but didn't have much luck photographing them. They always seemed to streak by when the shutter was closed. I did a bunch of 20 second exposures, most with no meteor in them. In any case, here is one with both an airplane on the left and a meteor on the right (You may need to look at the large version off the image to see the meteor streak).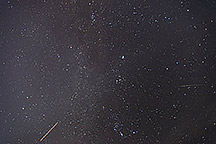 Meteor on the Right
Today was restaurant day. I went to the Bad Boy Cafe for breakfast - pancakes, bacon & one egg for $7.00. Not bad, but I really only needed one rather than 2 pancakes - they were huge. Back at the trailer I did some reading - finished T. Jefferson Parker's The Jaguar, an excellent read. I also did my usual on line reading, and Skyped with my daughter in Washington. We had to switch to Facetime; for some reason, the current version of Skype won't turn on my laptop microphone. I checked it within the Apple preferences & it works fine, as well as with Facetime, but it is dead on Skype. In any case, we had a nice chat.
Around 4:30 I headed to Sweet Darlene's for the Friday all you can eat fish dinner. Nicely fried pieces of Cod, a baked potato, & coleslaw for $10.00 (it went up $1.00 from last year). Still a good dinner worth the $.
Not sure if I'm going to venture out to try for more Geminid photos. While the sky was clear last night, it was (and still is) cloudy all day. There is also lots of spill light on the fringes of La Posa West from the buildings in town and the traffic on I 10 & AZ 95. The moon will also be out until close to 11:00.
Until Tomorrow -
---
This page is maintained by: vermilye@oswego.edu
Last Update: December 15, 2018