2018 - 2019 Trip
Day 136
2011 Trip across the US
2012 Trip across the US
2014 Trip across the US
2015 Trip to Alaska
2015-16 Southwest Trip
2016 New England Trip
2016 - 17 Southwest Trip
2017 - 18 Trip to Pick Up a New Escape 21 Trailer & More
Tuesday, December 18, 2018 - La Posa West, Quartzsite, AZ, Day 11 - 0 Miles, 8,082.2 Miles for the Trip
Happy 12th birthday to my granddaughter Valerie!
I took a photo of a very weak rainbow after dinner yesterday. It never rained here at the campground, but we had lots of clouds. A strip cleared as the sun was setting, and I guess there was some rain towards the east.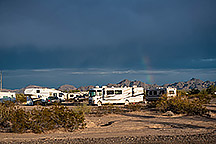 A Weak Rainbow
Today was another nice day at Quartzsite. Lots of sun; the batteries are back to full. I didn't do much other than read.
Dinner was the rest of yesterday's grilled chicken thigh.
Until Tomorrow -
---
This page is maintained by: vermilye@oswego.edu
Last Update: December 19, 2018