2018 - 2019 Trip
Day 140
2011 Trip across the US
2012 Trip across the US
2014 Trip across the US
2015 Trip to Alaska
2015-16 Southwest Trip
2016 New England Trip
2016 - 17 Southwest Trip
2017 - 18 Trip to Pick Up a New Escape 21 Trailer & More
Saturday, December 22, 2018 - La Posa West, Quartzsite, AZ, Day 15 - 0 Miles, 8,082.2 Miles for the Trip
Another nice sunset last night, so I'll add a photo. Not too much else to take pictures of. I did have a nice chat around the campfire with a couple of my neighbors. As the cloud cover cleared, it cooled off, but it was still in the mid 50's around 8:00PM, although 40°F at 6:00AM. My new blanket isn't any warmer than the poncho liner, in fact, not as warm. Around 6:00AM I unfolded the poncho liner and added it to the pile. I'd prefer not to use it since it is pretty impervious to water vapor, ie you can feel damp wrapped up in it. That is probably why it keeps you warm even though it is light & thin. In any case, I wanted it this morning!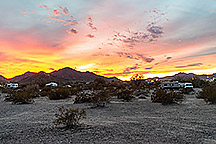 Another Quartzsite Sunset
So far, the only thing shut down by the government shutdown is the entrance stations. I went to renew my 14 day permit, and both the West & South La Posa entrance stations were closed, with signs stating closed because of the shutdown. No chains across the gates; I suspect that would be a problem since there are 100's of RVs in each of the 4 sections. I checked, and as of this morning, the water fill & dump stations were open. Since they closed during last year's shutdown, who knows for how long? The vault toilets were open.
I checked again at 5:00 & everything but the offices were still open.
Dinner was Tai Pei Orange Chicken.
Until Tomorrow -
---
This page is maintained by: vermilye@oswego.edu
Last Update: December 23, 2018