2018 - 2019 Trip
Day 159
2011 Trip across the US
2012 Trip across the US
2014 Trip across the US
2015 Trip to Alaska
2015-16 Southwest Trip
2016 New England Trip
2016 - 17 Southwest Trip
2017 - 18 Trip to Pick Up a New Escape 21 Trailer & More
Thursday, January 10 , 2019 - La Posa West, Quartzsite, AZ, Day 34 - 0 Miles, 8,082.2 Miles for the Trip
Another warm night and beautiful day. We also had a nice sunset: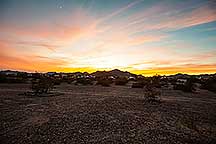 Last Night Sunset
I spent the morning reading, then headed to Parker to do some shopping & wash the truck. Gas was $2.39 at the Parker Terrible, $2.46 - $2.49 at most of the other stations. Still $2.65 here at Quartzsite, so I filled up on the way back to the campground.
I also made a run out to Dome Rock. I wanted to give accurate GPS coordinates to the rally area & the host site where you get your permit posted to some of the fiberglass forums. Of course, if the shutdown doesn't end, I'm pretty sure the host won't be on duty. He was off today.
That was about it for the day.
Since lunch was left over pizza, dinner was the same as last night - a sandwich & applesauce.
Until Tomorrow -
---
This page is maintained by: vermilye@oswego.edu
Last Update: January 11, 2019