2018 - 2019 Trip
Day 191
2011 Trip across the US
2012 Trip across the US
2014 Trip across the US
2015 Trip to Alaska
2015-16 Southwest Trip
2016 New England Trip
2016 - 17 Southwest Trip
2017 - 18 Trip to Pick Up a New Escape 21 Trailer & More
Monday, February 11 , 2019 -SARA Rodeo Grounds, Lake Havasu City, AZ - 82.1 Miles, 8,176.8 Miles for the Trip
Moving day! I was no rush to pack up & hit the road since last year I arrived a half hour before the gate at the rodeo ground opened, and waited 44 minutes in line. I packed up the rest of the trailer & headed to the dump station. 2 ahead of me; a short wait. No one ahead of me for water.
By the way, I received email pointing out that the jet that has moved across I10 is not a Lear Jet, but a prototype of a Tony Fox designed Foxjet ST600. An interesting article at Wikipedia describing the project. Funny how it ended up at Quartzsite!
Tanks emptied & filled, I headed to Lake Havasu City & the SARA Rodeo Grounds. This time there was only one vehicle in front of me, and it was the Bonair Oxygen from the Quartzsite Fiberglass Rally.
There are 5 of us that registered as a group in G1 - G5, and a few rows east, a larger group from Death Valley that includes many fiberglass trailers. There are also a few more scattered throughout the rodeo grounds.
For those interested, there is both AT&T & Verizon coverage, as well as rodeo grounds WiFi that is only available at the bathrooms and Barbecue area. I could dig out my NanoStation & connect to the rodeo grounds WiFi, but it is easier to stick with my cell modems. I didn't see much difference between Verizon & AT&T for signal strength or speed, although that might change as the grounds fill.
I'm in site G2, a 40' X 20' section of a parking lot, the same site as last year. After setting up I took a walk around the grounds. Again, for those interested, there are a few water fill stations, although the nearest one to my site is on a steep hill and would require a fairly long hose. A large bathroom building next door to a shower building (unheated, but 4 full bathrooms).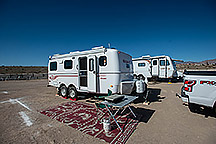 Site G2
Since the batteries were almost full when I arrived, I fired up the inverter & recharged my Waterpik & camera batteries. I also microwaved an early dinner around 4:00 so there would still be some sun to help recover. As the sun fades in the west, I'm down around 10 amp hours. I don't plan on digging out the portable panel, or tilting the rooftop panels unless we have a string of cloudy days.
Dinner was a Eating Well Chicken & Wild Rice Stroganoff & the rest of some very good asparagus. The Eating Well meal was excellent - so far I have really liked all of their microwaved meals. Unfortunately, they are only microwavable, so I need well charged batteries or hookups to cook them.
Until Tomorrow -
---
This page is maintained by: vermilye@oswego.edu
Last Update: February 12, 2019