2018 - 2019 Trip
Day 193
2011 Trip across the US
2012 Trip across the US
2014 Trip across the US
2015 Trip to Alaska
2015-16 Southwest Trip
2016 New England Trip
2016 - 17 Southwest Trip
2017 - 18 Trip to Pick Up a New Escape 21 Trailer & More
Wednesday, February 13 , 2019 -SARA Rodeo Grounds, Lake Havasu City, AZ, Day 3 - 0 Miles, 8,176.8 Miles for the Trip
Not a lot happening today. The fireworks start tomorrow night, although there are a bunch being fired off as I post this page. It is still light enough that they are hard to see, but maybe they want to fire them off before tomorrow night's predicted rain. We did get a few drops while sitting out at the Boomer's Happy Hour (an Escapee organization that has a large number of RVs here at the rodeo grounds). I took a photo of the Sea Scouts selling ice & firewood: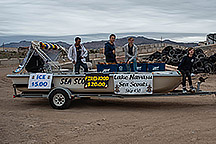 The Sea Scouts
I did hit the showers around 3:30 this afternoon. Very nice clean individual bathrooms with large showers, but no place to put your stuff. One hook on the door. High pressure/low volume showerheads that are high enough that by the time the water reaches you it is cold, even with the water set as hot as it goes. Combined with the unheated room, it makes for a quick shower!

Dinner was New England Clam Chowder - even though I'm from NY, the idea of putting tomatoes in clam chowder is absurd!
Until Tomorrow -
---
This page is maintained by: vermilye@oswego.edu
Last Update: February 14, 2019