2018 - 2019 Trip
Day 218
2011 Trip across the US
2012 Trip across the US
2014 Trip across the US
2015 Trip to Alaska
2015-16 Southwest Trip
2016 New England Trip
2016 - 17 Southwest Trip
2017 - 18 Trip to Pick Up a New Escape 21 Trailer & More
Sunday, March 10, 2019 - Oasis RV Park, Van Horn, TX - 247.9 Miles, 9,130.3 Miles for the Trip
I left City of Rocks around 8:30 after resetting all the clocks, watches, even my cooking timer for the daylight savings time change. I got to do it all over again just outside Van Horn, TX where I crossed into Central Time, even the phones. I got tired of them switching between California & Arizona towers (and Pacific & Mountain time) while in Lake Havasu City, so I set the time zone manually. Hopefully, everything is now on the same clock, although I'll lose another hour of sleep.
A uneventful drive on I 10 to Van Horn Texas. I've stopped at the Oasis RV Park a couple of times on previous trips. Nothing special, but it is level, full hookups, which helps after a week of dry camping at City of Rocks, and relatively inexpensive at $27.00. I'm in site 18. They finally replaced the shower head in the men's shower! Two years ago it fell off when I tried to aim it, last year it was gone, but this year there is a new one. I almost want to take a shower just to use it.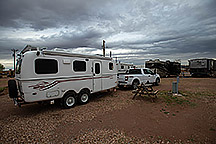 Site 18
As I did on previous years, rather than cook (although I do have a picnic table this time) I walked across I 10 Business to Chuy's Mexican Restaurant. I had their #1 combination, which was a good mix of Mexican dishes. A group of Class A travelers that are parked next to me at the Oasis were already at Chuy's. We chatted a bit about our travels while waiting for our meals.
Until Tomorrow -
---
This page is maintained by: vermilye@oswego.edu
Last Update: March 11, 2019