2018 - 2019 Trip
Day 230
2011 Trip across the US
2012 Trip across the US
2014 Trip across the US
2015 Trip to Alaska
2015-16 Southwest Trip
2016 New England Trip
2016 - 17 Southwest Trip
2017 - 18 Trip to Pick Up a New Escape 21 Trailer & More
Friday, March 22, 2019 - Village Creek State Park, Wynne, AR - 126.9 Miles, 10,217.8 Miles for the Trip
Not a bad evening - the dog stopped barking around 10:30, and the neighbor's music was quiet enough that I could hear my own. Since the park was full, I stopped by the office to let them know I was leaving, and a first come site was opening up.
I headed east on US 64, a mixed 2 / 4 lane road that, for a section, is part of I 40. While I did see lots of high water, the only flooded out building was a picnic shelter along the river. I stopped at a Walmart on US 64 in Wynne, about 10 miles from the campground. Since I did so poorly on the purchase of a replacement coffee pot, I tried again. This time it was a Walmart brand at half the price of the Black & Decker. At $8.00, even if I don't like it I don't mind.
I reserved site 4 at Village Creek, mostly because I stayed in it before and my notes said it was a level site. Some of them here have driveways so steep that the trailer couldn't be leveled. The interesting thing is when I pulled in, site 4 wasn't where I expected to be. No, they didn't renumber the sites; I must have stayed here more than once, and was remembering the location of site 4 as the location I stayed in when I camped in site 38. A foggy old brain! In any case, site 4 was as my notes suggested - level, but on the other side of the bathrooms & "A" loop. I didn't unhook, but if I get the urge to head into Wynne, I can. The site is a mix of gravel & mud with water & electric, and a picnic table & fire ring well behind the trailer, and a small creek behind it. The price is listed as $22.00 per night, but with the county, state, and tourism taxes, it comes out to $24.31 per night for 3 nights.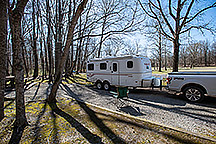 Site 4
I also remember from looking up the campground from my previous trips that the cell coverage was iffy. While I just uploaded today's photos without too much trouble, I have not been able to look at my site (or any forums, for that matter). Internet radio is non existent, which means I'll miss my connection to WXXI and the Echo program tonight & tomorrow, as well as Hearts of Space on Sunday. Since I dropped the XM Radio for the trailer because I only used it once over the previous 6 months, and there are only religious & conservative talk FM stations, I'm no longer connected to the outside world! At least I have over 500 songs on my iPhone...
There is no AT&T coverage, with or without an amplifier. Verizon flips back & forth between a 4GLTE signal & 1X. Signal strength is -129dBm without the amplifier, and -108dBm with. Speedtest doesn't. Mail seems to slip through occasionally, but, as mentioned, trying for web pages are a waste of time.
By the way, I did check the cell coverage at Toad Suck, but forgot to post it. AT&T was -100dBm with 9.7Mbps down & 1.5Mbps up. Verizon was -95dBm with 39.4Mbps down & 10.2Mbps up.
The campground here is full, with a couple of reserved sites waiting on RVs. I walked around the loop (well, it is a figure 8), then headed for the showers. The bathrooms are standard in the other part of the figure eight, while in our section they are individual rooms. Large rooms with a bench & 2 hooks on the wall. While there is a shower curtain, the showerhead is aimed at it & water runs under it to cover the entire floor of the bathroom. A high pressure showerhead, but the permanent one that gives a pretty good spray. Plenty of hot water.
After that I sat & read in the sun - current book is The Leavers, a National Book Finalist by Lisa Ko. While a change of pace for me from my mysteries & SiFi, an excellent read.
Dinner was a Healthy Choice Shiitake Chicken Power Bowl. Lots of chicken, not much shiitake, but very good.
Until Tomorrow -
---
This page is maintained by: vermilye@oswego.edu
Last Update: March 23, 2019