2018 - 2019 Trip
Day 233
2011 Trip across the US
2012 Trip across the US
2014 Trip across the US
2015 Trip to Alaska
2015-16 Southwest Trip
2016 New England Trip
2016 - 17 Southwest Trip
2017 - 18 Trip to Pick Up a New Escape 21 Trailer & More
Monday, March 25, 2019 - Pin Oak Campground, Natchez Trace SP, TN - 176.3 Miles, 10,394.1 Miles for the Trip
Another night worrying about thunderstorms. While my weather app showed a severe storm warning heading towards the campground, by the time it got here it was just a mild storm with little wind & a bit of small hail. While I enjoy thunderstorms at home in upstate NY, it may be because I'm in a house rather than a room sized trailer, and they rarely are rated severe.
Most of the drive was on I 40. In Tennessee, their electronic signs say something like "Buckle your seatbelt today so you will see tomorrow". I believe, at least for the first couple of miles of I 40 into the state, they should say "Buckle your seatbelt to keep you in the driver's seat". Very nasty potholes, concrete slab joints, etc. In fact, they even put up signs saying "potholes", rather than fix them.
Other than the roads, a quiet drive to the Natchez Trace State Park. I'm in the Pin Oak Campground for a week, one of four in the park. I'm in site 44, a near level full hook up site on gravel that is $28.25 per night, including three different taxes. The price is with a 25% senior discount that I couldn't get on line, but was refunded the difference at the park lodge. Lots of space left in this campground, not sure about the others.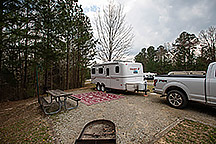 Site 44
When I went to the lodge to get my refund, they were serving lunch. They usually only do lunches on weekends this time of year, but there was a Spring Break kid's thing going on so the dining room was open. I had the buffet, which was all you can eat,including dessert for $8.09, again with a senior discount. A good salad, meatloaf, hamburgers, some other kind of meat, and all the sides you can think of, including fried okra, something I haven't had before. With sweet tea at $2.25 & tax, a total of $11.35. I ate enough that there won't be any need for dinner!
Until Tomorrow -
---
This page is maintained by: vermilye@oswego.edu
Last Update: March 26, 2019