2018 - 2019 Trip
Day 261
2011 Trip across the US
2012 Trip across the US
2014 Trip across the US
2015 Trip to Alaska
2015-16 Southwest Trip
2016 New England Trip
2016 - 17 Southwest Trip
2017 - 18 Trip to Pick Up a New Escape 21 Trailer & More
Monday, April 22, 2019 - Greenbriar State Park, MD - 64.8 Miles, 11,381.5 Miles for the Trip
I gave away the remaining firewood as I was leaving the campground. A short drive, although some stop & go on I 495, to I 70 & Greenbriar State Park. I'm in an electric only site (#C24), a fairly level (at least at the top) that did not require unhooking the truck, but did need side to side leveling. The site is fine gravel with a picnic table, fire ring, & located fairly close to the bathrooms. I'm here for two nights at $31.62 per night.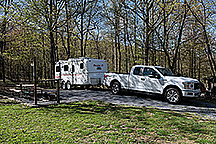 Site C24
I spent most of the day reading, both my current book (Perfidia, by James Ellroy on my Kindle), and my usual blogs & forums on the computer. I did check the cell service here at Greenbriar - AT&T is at -90dBm, 34.2down & 30.9 up, while Verizon is at -76dBm, 49.7 down & 11.9 up. Both without an amplifier. For those interested, I added the cell statistics for Greenbelt Park to yesterday's post.
Dinner was a microwaved Tai Pei Sweet & Sour Chicken meal.
Until Tomorrow -
---
This page is maintained by: vermilye@oswego.edu
Last Update: October 28, 2019