2021 Spring Fling Trip
Day 5
2011 Trip across the US
2012 Trip across the US
2014 Trip across the US
2015 Trip to Alaska
2015-16 Southwest Trip
2016 New England Trip
2016 - 17 Southwest Trip
2017 - 18 Trip to Pick Up a New Escape 21 Trailer & More
2018 - 19 Trip to Winnipeg & the Albuquerque Balloon Fiesta
2019 - 20 Trip to the Southwest
Sunday, May 16, 2021 - Chocorua Camping Village KOA, Tamworth, Day 5 - 0 miles, 394.5 Miles For the Trip
Well, I didn't do a good job of photographing those leaving - between breakfast, sitting around talking, and ducking a couple of brief rain bursts, I never got around to switching lenses. I had my 80 - 400mm lens on the camera after attempting to take photos of a couple of loons on the pond. By the time I managed to get to the truck and switch to the longer lens, they were pretty much out of range, but I do have one rather soft image: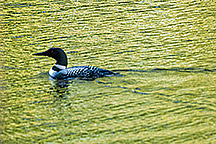 The Loon
My next scheduled rally is the Algonac State Park in early September, followed by the Wine Escape Rally in Niagara Falls, Ontario (if the border opens), although I will have a couple of trips during the summer.
While the rally has ended, Anne & Guido are staying until Wednesday, and I'm leaving on Tuesday, so we will still have a day or two here at Chocorua.
Dinner was Anne's Chicken & Artichokes.
Until Tomorrow -
---
This page is maintained by: vermilye@oswego.edu
Last Update: May 17, 2021