2021 Spring Fling Trip
Day 8
2011 Trip across the US
2012 Trip across the US
2014 Trip across the US
2015 Trip to Alaska
2015-16 Southwest Trip
2016 New England Trip
2016 - 17 Southwest Trip
2017 - 18 Trip to Pick Up a New Escape 21 Trailer & More
2018 - 19 Trip to Winnipeg & the Albuquerque Balloon Fiesta
2019 - 20 Trip to the Southwest
Tuesday, May 18, 2021 - Wilmington Notch DEC Campground, Wilmington, NY - 281.3 miles, 675.8 Miles For the Trip
I packed up the truck & trailer, said goodbye to the neighbors & Anne & Guido, and headed out a little after 9:00AM. A longer leg than I usually like to make, but my normal DEC Adirondack campground (Lincoln Pond) isn't yet open. Wilmington Notch is next door to Whiteface Mountain Ski area which hosted the alpine skiing competitions of the 1980 Winter Olympics. I didn't stop at the ski area, but have on past trips. The Olympics was staged all over this area.
I stopped for one photo on the way - The Mount Washington Resort. It reminds me of the Stanley Hotel in Estes Park, CO where Stephen King got the idea for his novel - The Shining.
| | |
| --- | --- |
| | |
| The Mt. Washington resort | The Stanley Hotel |
After that is was cruising on 2 & 4 lane roads all the way to Wilmington. While the first route the GPS gave me was shorter, it included a ferry ride across Lake Champlain. The one I would have been routed through is currently closed, and the I87 bridge is pretty close to the next one to the North (and doesn't cost $32.00). I arrived at the campground around 3:30.
I'm in site 30 (one I picked out using Reserve America) because it was one of the deepest (30') on the site list that was available. It is pretty much impossible to get into driving North on the access road, but not too bad going South. The site next door that was listed as (20') is deeper. I'm not sure how Reserve America determines the size of the sites, but I'd fit (with the truck attached) in many of the 20' sites (my truck & trailer together are 43' long).
Anyway, a fairly level site front to back and within 1" side to side, as I said, and deep enough to leave the truck attached. A dry (no utilities) site but good sky on the solar panels. Cost is $25.25, $18.00 for the site & a $7.25 reservation fee. Two bathrooms with flush toilets, one with a single shower for 53 sites. A beautiful day, 73°F at 4:45, and in the 70's all day.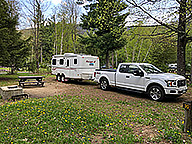 Site 30
I took a short walk around the campground since I didn't do my usual morning walk. After that it was reading Old Bones by Preston & Child on my Kindle. On the drive I listened to Ellis Peter's The Leper of Saint Giles.
Dinner was a Barber Foods Cordon Bleu & a Broccoli & Cheese oven meal. One is not quite enough, two is a bit too much, but since I skipped lunch, I'm hungry enough to eat all of both of them as well as the left over Bush beans.
Until Tomorrow -
---
This page is maintained by: vermilye@oswego.edu
Last Update: May 19, 2021