2019 - 2020 Trip
Day 7, Hungry Mother State Park, Marion, VA - Day 4
2011 Trip across the US
2012 Trip across the US
2014 Trip across the US
2015 Trip to Alaska
2015-16 Southwest Trip
2016 New England Trip
2016 - 17 Southwest Trip
2017 - 18 Trip to Pick Up a New Escape 21 Trailer & More
2018 - 19 Trip to Winnipeg & the Albuquerque Balloon Fiesta
2019 - 20 Trip to the Southwest
Sunday, October 27, 2019 - Hungry Mother State Park Marion, VA - Day 4 - 0 Miles, 725 Miles for the Trip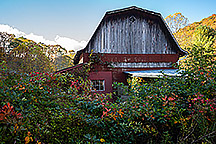 A Barn Next Door
Lots or rain overnight, but by 10:00AM the sun was out. Partly cloudy & warm for the rest of the day. Many, many RVs, both fiberglass & stick built headed out this morning. There are 3 fiberglass trailers that stayed today. I have a new neighbor in a very large 5th wheel. I called & chatted with my son & Don & Anne, my usual Sunday phone calls. I also drove into Marion and the Ingles Market for a few supplies.
Back at the trailer I headed to the showers. There are two bathroom buildings. The old one is attached to the office, and at best, can be described as "rustic". The new building has 4 individual shower rooms, one handicapped. Good showerheads, a separate drying area that only gets a little wet from the shower, plenty of hot water, but no heat. Only one hook, but there is a bench. I guess I'd give it a B.
I did quire a bit of reading the rest of the afternoon sitting out in the sun.
Dinner was a microwaved frozen turkey dinner I made up with the leftovers from my Thanksgiving in July get together. I like cooking a big turkey dinner, and invite a bunch of friends & students (back when I was working) during Thanksgiving, but since I've been away keeping out of the snow for the last 5 Thanksgivings, I now do it in July. A bit hot baking a 20 pound turkey in July, and it really hard to find frozen creamed onions, but it worked.
Until Tomorrow -
---
This page is maintained by: vermilye@oswego.edu
Last Update: October 28, 2019