2019 - 2020 Trip
Day 10, Montgomery Bell State Park, White Bluff, TN
2011 Trip across the US
2012 Trip across the US
2014 Trip across the US
2015 Trip to Alaska
2015-16 Southwest Trip
2016 New England Trip
2016 - 17 Southwest Trip
2017 - 18 Trip to Pick Up a New Escape 21 Trailer & More
2018 - 19 Trip to Winnipeg & the Albuquerque Balloon Fiesta
2019 - 20 Trip to the Southwest
Wednesday, October 30, 2019 - Montgomery Bell State Park, White Bluff, TN - 200.2 Miles, 1110.4 Miles for the Trip
Lots of rain during the night & morning. I really appreciate my weather radar app. It showed a break in the rain arriving in 20 minutes, so I could plan a dry spell to pack up the trailer's outside stuff. Other than that short break, it rained all the way to Montgomery Bell Campground. I gained an hour, switching to central time.
I entered the park through the back entrance, and didn't drive by the office. There is a small campground office with a phone number to call to register. I'm in site 68, a water & electric site for $24.02 per night with a 25% in season senior discount. Lots of sites available, although many are small & sloped. The site I picked is a gravel back in that would be too tight for a trailer or motorhome with front slides, in fact a little tighter between trees than I like. It is close to the heated bathroom building that has showers. I'll report on them tomorrow.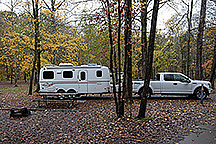 Site 68
After setting up, I headed to Krogers in Dickson for water & a few supplies, and topped off the truck at $2.09 per gallon, the least expensive gas so far. Of course I had just filled the tank a few miles back along I 40 at $2.17, so I could only add 7 gallons. By the way, the average using the truck's Tow/Haul setting over the last 1110.4 miles is 12.4 MPG. The truck gets close to 21 MPG highway without the trailer, so it does take a hit.
Back at the trailer, I put stuff away, then did some reading & started today's journal page. It looks like tonight will be another in-trailer dinner - it is still raining, so I probably won't dig out the grill. I have a bunch of frozen meals that either microwave or bake in the oven. I will dig out the electric heater - a frost warning & 47°F tonight, with a high tomorrow of 52°F and a low of 27°F! While I didn't need reservations for Montgomery Bell, I checked on the availability of sites at my next planned stop - Tishomingo State Park in Mississippi, and while there were a number of sites available for Friday & Saturday, quite a few less than when I checked yesterday, so I made reservations. Let's hope the description of a "slight slope" to site 10 is really slight!
Dinner was a Boston Market Sweet & Sour Chicken dinner.
Until Tomorrow -
---
This page is maintained by: vermilye@oswego.edu
Last Update: October 31, 2019