2019 - 2020 Trip
Day 27, Sunset RV Park, Deming, NM
2011 Trip across the US
2012 Trip across the US
2014 Trip across the US
2015 Trip to Alaska
2015-16 Southwest Trip
2016 New England Trip
2016 - 17 Southwest Trip
2017 - 18 Trip to Pick Up a New Escape 21 Trailer & More
2018 - 19 Trip to Winnipeg & the Albuquerque Balloon Fiesta
2019 - 20 Trip to the Southwest
Saturday, November 16, 2019 - Sunset RV Park, Deming, NM - 220.6 Miles, 3,050.2 Miles for the Trip
While I loved the chili relleno at Chuy's, they did require a midnight gulp of Mylanta. Still worth it!
On the way to Deming, I stopped at a Camping World just north of El Paso. I checked with their service center & they didn't have anyone on for Saturday, and no open slots on Monday. Since I've had some pretty bad luck with repairs at Camping World, maybe that was good. In any case, they did have a Weber Q1000 grill which I bought. The rest of the drive west on I 10 was boring, but with the extra hour gained by moving into Mountain Time, a quick tri[p to Deming. I'd like to stay at my favorite New Mexico campground, but there were no open electric sites at City of Rocks, and without the furnace & being at 4500', it will be cold, at least at night. Right now it is in the low 70's, but once the sun goes down it cools quickly.
I stopped at the Sunset RV Park in Deming. I'm in site 44, a full hook up site for $19.00 per night. The owner sent me to the site & since I don't know how long I'll be here, just said go, and we will settle when I leave.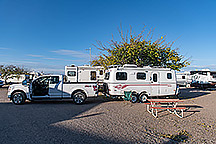 Site 44
Jim's RV Service & Garage will open on Monday, and I'll check to see if they can service the furnace. I got good recommendations for them, both on line & from the campground owner.
After setting up I unpacked the grill and ran it to burn off any manufacturing oil, etc. I took the box & my old grill to the dumpster, and an hour later met the new owner of the old grill. I warned him about the things I didn't like about it, but he liked the price!
I made a quick trip to Walmart for some vegetables, including an ear of corn for dinner.
Dinner was a grilled Quorn vegetable chicken patty, and corn on the cob.
Until Next Time -
---
This page is maintained by: vermilye@oswego.edu
Last Update: November 17, 2019