2019 - 2020 Trip
Day 36, Gilbert Ray County Park, Tucson, AZ
2011 Trip across the US
2012 Trip across the US
2014 Trip across the US
2015 Trip to Alaska
2015-16 Southwest Trip
2016 New England Trip
2016 - 17 Southwest Trip
2017 - 18 Trip to Pick Up a New Escape 21 Trailer & More
2018 - 19 Trip to Winnipeg & the Albuquerque Balloon Fiesta
2019 - 20 Trip to the Southwest
Monday, November 25, 2019 - Gilbert Ray County Park, Tucson, AZ- 188.1 Miles, 3,354.4 Miles for the Trip
Well, never suggest that I predict the weather. Yes, it was a clear sky last night, and usually that makes for a cooler night, but it only went down to 38°F by morning. I packed up the trailer & was on the road by 8:30. One stop for gas, hitting Gilbert Ray around 12:15. I worried ( I do that a lot) that the campground would be full & I'd have to find a commercial campground in Tucson (not a difficult thing to do), but there were more empty sites than occupied. I drove around the A loop & settled on A56, an electric only (as are all the other sites other than tent sites, which are dry) for $20.00 per night. I'll be here through Thanksgiving, with a reservation for Picacho Peak State Park on the 30th.
A pretty site like most of them in the park. Closer to your neighbors than in some of the state parks, but not too bad. A bathroom (no showers) is a short walk from the site.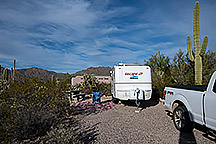 Site A56
After setting up I headed to the local Safeway about 9 miles away. I drove over Gates Pass to get there - a narrow, steep section that isn't too bad - I towed the 21 through it last year. I bought far too many goodies, and filled the freezer as well as the refrigerator.
After putting the stuff away I had my first shower of the trip in the trailer. A "Navy" shower to conserve water. They do have water stations around the campground, but I'd have to hook up the truck to haul the trailer to a spigot.
After that it was a bit of reading outside in the 77°F sun. As soon as the sun ducked behind the skyline, the light breeze cooled things down enough that I went in to put on a flannel shirt.
Dinner was a Signature Select (Safeway brand) Garlic Chicken Alfredo Pizza.
Until Next Time -
---
This page is maintained by: vermilye@oswego.edu
Last Update: November 26, 2019