2019 - 2020 Trip
Day 42, Picacho Peak State Park, AZ, Day 2
2011 Trip across the US
2012 Trip across the US
2014 Trip across the US
2015 Trip to Alaska
2015-16 Southwest Trip
2016 New England Trip
2016 - 17 Southwest Trip
2017 - 18 Trip to Pick Up a New Escape 21 Trailer & More
2018 - 19 Trip to Winnipeg & the Albuquerque Balloon Fiesta
2019 - 20 Trip to the Southwest
Sunday, December 1, 2019 - Picacho Peak State Park, AZ, Day 2 - 0 Miles, 3410 Miles for the Trip
Some sharp eyed readers may have noticed that Day 40 did a rebirth. It seems that at least once per trip I manage to overwrite a page when making a new one. I did that yesterday, and had to rebuild Day 40. Let's hope it is only once on this trip!
A bit cool at 37°F last night, but clear skies this morning so it warmed up as long as you were out of the shade. A Sol moved into the space across from me. While not a true fiberglass egg (it has an aluminum frame with fiberglass sides & roof), with the panoramic front window, it looks a bit like the original Nest, now made & sold by Airstream. They left before I could visit & check the layout.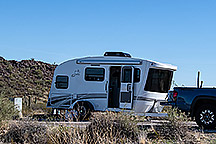 A Sol Trailer
By the way, while the campground is along I 10 & a busy railroad, both are far enough away, at least from sites in the upper part of the campground, that the noise is not a problem. Others have complained, so I guess it depends on your sensitivity to noise. No train horns, but they do go by all night long.
I did some speed tests on the cell coverage. AT&T provides 35.1Mbps down & 10.5Mbps up. Verizon is all over the place. A couple of tries wouldn't even make a connection, but when it did, I got 48.3Mbps down & 20.6Mbps up. There is WiFi sold by Airbeam for $3.95 per night that I didn't try.
Dinner was a turkey Bubba Burger & applesauce.
Until Next Time -
---
This page is maintained by: vermilye@oswego.edu
Last Update: December 2, 2019