2019 - 2020 Trip
Day 44, Lake Pleasant Regional Park, Peoria, AZ
2011 Trip across the US
2012 Trip across the US
2014 Trip across the US
2015 Trip to Alaska
2015-16 Southwest Trip
2016 New England Trip
2016 - 17 Southwest Trip
2017 - 18 Trip to Pick Up a New Escape 21 Trailer & More
2018 - 19 Trip to Winnipeg & the Albuquerque Balloon Fiesta
2019 - 20 Trip to the Southwest
Tuesday, December 3, 2019 - Lake Pleasant Regional Park, Peoria, AZ - 84.7 Miles, 3570.8 Miles for the Trip
Another late start. Probably a good idea since I will be heading through Phoenix so waiting until rush hour is over is good. The drive wasn't too bad at 10:00 - 12:00, although there was still lots of traffic.
I set up in site 37 in the Roadrunner Campground at the Lake Pleasant Regional Park. It is run by Maricopa County. Two nights at $32.00 per night plus an $8.00 reservation fee for a total of $72.00. A covered picnic table, and the bathrooms with separate shower rooms is next door.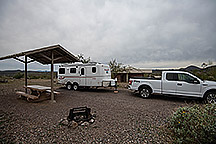 Site 37
After setting up I headed to Peoria Ford for an oil change & tire rotation. I asked to have the auto locks turned off on the doors, but while they thought they did it, they didn't. It is a pain because if I stop & leave the key in the truck, walk around to the passenger door, it won't open. There is a door lock box under settings, but it doesn't work.
By the time the oil change was finished, my prescription was ready. Peoria is a large city. Both the Walgreens & Ford were addressed in Peoria, but the two were 22 miles and 40 minutes apart. It was another 20 miles back to the campground.
I decided to take a shower before making dinner while there was still some heat left over from midday. No heat in the shower room, but other than that, not too bad. A lousy high pressure showerhead, and a 10 second push button, but plenty of hooks, a bench, shower curtain, and both the shower & drying area were large.
Dinner was a grilled chicken thigh & mixed vegetables.
Until Next Time -
---
This page is maintained by: vermilye@oswego.edu
Last Update: December 4, 2019