2019 - 2020 Trip
Day 59, La Posa West LTVA, Quartzsite, AZ, Day 10
2011 Trip across the US
2012 Trip across the US
2014 Trip across the US
2015 Trip to Alaska
2015-16 Southwest Trip
2016 New England Trip
2016 - 17 Southwest Trip
2017 - 18 Trip to Pick Up a New Escape 21 Trailer & More
2018 - 19 Trip to Winnipeg & the Albuquerque Balloon Fiesta
2019 - 20 Trip to the Southwest
Wednesday, December 18, 2019 - La Posa West LTVA, Quartzsite, AZ, Day 10 - 0 Miles, 3,894.2 Miles for the Trip
Happy 12th birthday to my granddaughter Valerie!
The coldest night since I arrived at Quartzsite. 29°F by morning. Lots of furnace time, in fact after breakfast I was down to 73% (54 amp hours) on the batteries. Since I can safely go down to 10%, no major problem, but I like to fill them up each day, and with my calculations for today's clouds, I decided tilting the solar panels would be a good idea. It took around half an hour with two loops of the trailer on my folding step ladder and made a big difference. The average peak solar here at Quartzsite has been around 175 watts before tilting, 306 watts (from 2 160 watt panels) after tilting, and that is with partial clouds.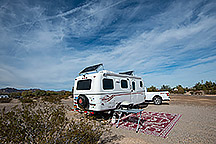 The Panels Are Tilted
Not much else going on today. I spent much of the morning & early afternoon reading. Still too cool to sit outside in the partial cloudy skies & 11 MPH average wind. Around 2:00 I Skyped my granddaughter to wish her a happy birthday. Only a fair connection. I don't know what has happened to the Quartzsite cell service, but it is much worse than last year. While there were a few times it was slow, until the week of the Big Tent show it worked fine. This year I haven't seen either Verizon or AT&T faster than 4Mbps down, and most of the time under 2Mbps. Upload speeds are faster and quite usable at 10 - 12Mbps. Since there aren't all that many RVs here yet, I don't think it is overloading, but who knows.
Verizon & AT&T also behave differently. While Verizon often tests out as a faster connection, when using it for a constant connection such as Skype or internet radio, it inevitably drops the signal long enough to require reconnecting. This afternoon Verizon dropped my Skype connection to my granddaughter. AT&T tends to be a bit slower, but once connected, holds the connection, rarely dropping out.
Dinner was the last of the meatloaf. There is still quite a bit left, but I'm done with it!
Until Next Time -
---
This page is maintained by: vermilye@oswego.edu
Last Update: December 19, 2019