2019 - 2020 Trip
Day 62, La Posa West LTVA, Quartzsite, AZ, Day 13
2011 Trip across the US
2012 Trip across the US
2014 Trip across the US
2015 Trip to Alaska
2015-16 Southwest Trip
2016 New England Trip
2016 - 17 Southwest Trip
2017 - 18 Trip to Pick Up a New Escape 21 Trailer & More
2018 - 19 Trip to Winnipeg & the Albuquerque Balloon Fiesta
2019 - 20 Trip to the Southwest
Saturday, December 21, 2019 - La Posa West LTVA, Quartzsite, AZ, Day 13 - 0 Miles, 3,894.2 Miles for the Trip
After a walk to the 76 station for coffee, I used the toaster oven to warm up a couple of biscuits for breakfast. A warm day - it hit 70°F by late afternoon. I did lots of sitting outside reading, then made a trip to the grocery store for a roast for dinner. No luck at either store - there was a couple of chuck roasts that I could have pot roasted, but they were a bit too fatty for me. I picked up a New York Steak that I'll grill for dinner.
They are starting the set up for the Big Tent. It is a tent the size of a couple football fields that used to sell RV stuff. ow, it is about 80% typical State Fair junk & 20% RV related. It is still quite a show, attracting well over 100,000 visitors during mid January. No tent yet, but the doorway support posts are in & the fake grass mats are going down.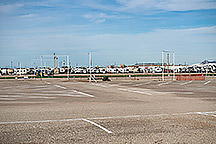 The Start of the Tent
After that it was back to sitting outside & reading, enjoying the warm weather. Fairly heavy high clouds, but the solar panels had the batteries back to full by noon. Amazon let me know my new Kindle would be in at the Rite Aid in Blythe on Monday, so I'll probably head there Monday afternoon.
Dinner was the NY Strip, mashed potatoes & mixed Asian vegetables. Unfortunately, the steak was from the wrong store (I stopped there second) and it was tough.
Until Next Time -
---
This page is maintained by: vermilye@oswego.edu
Last Update: December 22, 2019