2019 - 2020 Trip
Day 85, La Posa West LTVA, Quartzsite, AZ, Day 36
2011 Trip across the US
2012 Trip across the US
2014 Trip across the US
2015 Trip to Alaska
2015-16 Southwest Trip
2016 New England Trip
2016 - 17 Southwest Trip
2017 - 18 Trip to Pick Up a New Escape 21 Trailer & More
2018 - 19 Trip to Winnipeg & the Albuquerque Balloon Fiesta
2019 - 20 Trip to the Southwest
Monday, January 13, 2020 - La Posa West LTVA, Quartzsite, AZ, Day 36 - 0 Miles, 3,894.2 Miles for the Trip
A beautiful day at Quartzsite, hitting 75°F by mid afternoon. I walked with Wayne to the 76 station for coffee. He has folded down the solar panels on the Sun Power trailer, and will be heading to the Roadrunner BLM campground for a rally tomorrow. Holly also headed out with her Casita.
With the nice weather I sat outside and read. Current book is The Beginning, by H. Claire Taylor, a satire on the second coming as a woman.
Throughout the afternoon the New Mexico & California contingent arrived. There are now 5 of us in the area, with another travel trailer on the way. You can only see a corner of the Class C from Las Cruces.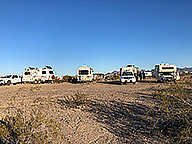 The Group -1!
We said a bunch of hellos, then headed for dinner.

I microwaved the last of my frozen chili left from a batch I made last summer.
Until Next Time -
---
This page is maintained by: vermilye@oswego.edu
Last Update: January 14, 2020