2019 - 2020 Trip
Day 89, La Posa West LTVA, Quartzsite, AZ, Day 40
2011 Trip across the US
2012 Trip across the US
2014 Trip across the US
2015 Trip to Alaska
2015-16 Southwest Trip
2016 New England Trip
2016 - 17 Southwest Trip
2017 - 18 Trip to Pick Up a New Escape 21 Trailer & More
2018 - 19 Trip to Winnipeg & the Albuquerque Balloon Fiesta
2019 - 20 Trip to the Southwest
Friday, January 17, 2020 - La Posa West LTVA, Quartzsite, AZ, Day 40 - 0 Miles, 3,894.2 Miles for the Trip
We built a campfire last night & sat around until it got cold enough to head in.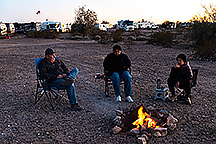 Around the Campfire
After my walk for coffee I sat outside & did a bit or reading. Enough wind that I eventually moved inside, then decided to head to Parker to do some shopping.
Getting out of Quartzsite was a zoo. I had to wait for two or three traffic light changes to get through at each light, and AZ 95 had heavy traffic most of the way to Parker.
In Parker, a long, slow train was crossing AZ 95, so there was a 15 minute wait to turn the corner. The traffic coming south on AZ 95 was backed up all the way to the Safeway plaza.
I did most of my shopping at Walmart, but they were out of lemons & ice, so I had to also make a stop at Safeway.
I bought the stuff to make a blueberry pie & spent he rest of the afternoon making & baking it. A couple that will be at the fiberglass gathering is already here & stopped by to say hello. I called my brother David to wish him a happy birthday. 23°F on Nantucket Island with snow expected tomorrow. 68°F here in Quartzsite. I love Nantucket in August, but Quartzsite has its appeal in January!
We sat around enjoying the afternoon, then cut up the pie for a early dessert.
Dinner was a Marie Callender's Sesame Chicken Bowl, and a second piece of blueberry pie.
Until Next Time -
---
This page is maintained by: vermilye@oswego.edu
Last Update: January 18, 2020