2019 - 2020 Trip
Day 101, Dome Rock, Day 3, Quartzsite, AZ
2011 Trip across the US
2012 Trip across the US
2014 Trip across the US
2015 Trip to Alaska
2015-16 Southwest Trip
2016 New England Trip
2016 - 17 Southwest Trip
2017 - 18 Trip to Pick Up a New Escape 21 Trailer & More
2018 - 19 Trip to Winnipeg & the Albuquerque Balloon Fiesta
2019 - 20 Trip to the Southwest
Wednesday, January 29, 2020 - Dome Rock, Day 3, Quartzsite, AZ - 0 Miles, 3,899.2 Miles for the Trip
A pretty sunrise, but a very windy day, and a bit cooler than the last couple of days.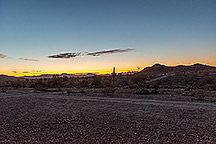 Sunrise
My weather station showed a peak of 30 MPH, and an average of 15 MPH for the wind. Not too many new arrivals today. A large Montana 5th wheel moved in to the area to the east of me. I let them know that around 200 trailers would be arriving over the next week just in case they were looking for quiet, but they had no problems with us & plan to leave in 4 days.
I tried sitting outside, but the wind got too much for me (along with the dust it was blowing around) so I gave up and headed inside. My current book is a novel novel by George Saunders - Lincoln in the Bardo. A strange format, but interesting book told by the ghosts in the graveyard where Lincoln's son Willie was buried. It won the Man Booker prize, and was listed in the 100 Notable books for 2017 by the New York Times. The writing style takes a bit to get used to - short quips by individual ghosts in the graveyard while they are waiting to move on.
Not much else other than sitting in the trailer being rocked by the wind. I did do a walk around the campground around 4:00 and took a few photos. I hope most are new arrivals, but with people moving around even after they get here, who knows?
| | | | |
| --- | --- | --- | --- |
| | | | |
| A 5er Here Until Sunday | New Arrivals | Around Dome Rock | Around Dome Rock |
| | | | |
| New Arrivals | New Arrivals | The Back 40 | New Arrivals |
| | | | |
| New Arrivals | New Arrivals | New Arrivals | |
Dinner was a grilled chicken thigh, roasted potatoes, applesauce & a salad.
Until Tomorrow -
---
This page is maintained by: vermilye@oswego.edu
Last Update: January 31, 2020