2019 - 2020 Trip
Day 127, Gilbert Ray County Park, AZ
2011 Trip across the US
2012 Trip across the US
2014 Trip across the US
2015 Trip to Alaska
2015-16 Southwest Trip
2016 New England Trip
2016 - 17 Southwest Trip
2017 - 18 Trip to Pick Up a New Escape 21 Trailer & More
2018 - 19 Trip to Winnipeg & the Albuquerque Balloon Fiesta
2019 - 20 Trip to the Southwest
Monday, February 24, 2020 - Gilbert Ray County Park, AZ - 101.5 Miles, 4,391.8 Miles for the Trip
I got an early start, leaving Vekol Valley BLM by 8:30 (well, early for me)! A cold morning at 42°F, but around 70°F by the afternoon in Tucson.
The traffic got much busier once I hit I 10, plus the exit Matilda the GPS picked for me was closed. At least they had a sign, so I could use the previous exit only a mile away. As usual, there was a line of people waiting to get a site. I asked for 2 nights since I had a busy day planed running around Tucson (little did I know how much running), and while I got sites, I have to move tomorrow morning.
I'm set up in site A12, a close to level back in site (it needed side to side leveling, although since I needed to unhook to roam Tucson, it didn't matter. $20.00 for an electric only site. I walked around the loop and found 2 Escape 21's and 2 19's, along with a Casita. Fiberglass trailers are well represented here at Gilbert Ray.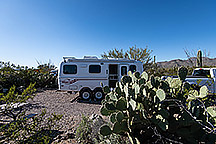 Site A12
After setting up I did a search for Allstate offices. Since I didn't know Tucson all that well, trying to find an Allstate office, post office, haircut & gas all near each other was difficult. I headed to the closest Allstate, paid my bill & picked up the proof of insurance paperwork, then did a search for a post office. Only 5 miles away, but getting into it was "interesting". I eventually went around the block a couple of times and found the customer entrance. From there the nearest barber shop was 7 miles away. Got there and it was gone. I looked for one using my phone that was near the campground and found Brotherz. The exit off I 19 (yes, Matilda wanted me to use the interstate) was, of course, closed. I eventually got there around 1:30, and discovered that they went to lunch between 1:00 - 3:00. By the way, there was an Allstate office next to the barber shop. So, back to the campground without a haircut. Total mileage for the day - 47. The only good was I found a Quicktrip station where gas was $2.27, the cheapest I've seen in the area.
Dinner was the rest of yesterday's pizza. It was nice to be able to warm it up without running the inverter & drawing down the batteries.
Until Tomorrow -
---
This page is maintained by: vermilye@oswego.edu
Last Update: February 25, 2020