2019 - 2020 Trip
Day 162, Oswego, NY (Home)
2011 Trip across the US
2012 Trip across the US
2014 Trip across the US
2015 Trip to Alaska
2015-16 Southwest Trip
2016 New England Trip
2016 - 17 Southwest Trip
2017 - 18 Trip to Pick Up a New Escape 21 Trailer & More
2018 - 19 Trip to Winnipeg & the Albuquerque Balloon Fiesta
2019 - 20 Trip to the Southwest
Monday, March 30, 2020 - Oswego, NY (Home) - 272.7 miles,7,290.6 Miles for the Trip
A damp, off & on rain, sometimes heavy on I 81 to home. I 81 was almost empty, other than trucks. The traffic warning signs all read "Stay Home" "Don't Travel", etc. Makes you feel a bit guilty to be on the road, although with the parks closing down, heading home is about all I can do.
I arrived at the door around 2:00, without making any stops. While having a full 36 gallon tanks let you do that, I really should have taken a break or two. In any case I'm home. Overall, one of the shorter winter trips due to the Covid-19 shutdowns of the TN & VA state & national parks as well as deciding to pass on the Townsend Gathering. It is good to be home - I went through 2' of mail & only found a few bills, as well as a couple of checks which I'll need to photo deposit since my bank lobby is closed.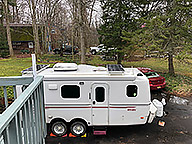 Home
I unloaded the refrigerator, all the dry & canned food, a few pieces of clothes, etc, but will put off the rest of the unpacking until tomorrow. It is still raining, and a cool 44°F.
So, until the next trip, my journal will go on hold (like me, since they just announced extending the April 6 end of "No Social Gathering" to April 30th). Much easier for a retired person like me than those that want (and need) to be back at work.
Some statistics on the trip:
Total campground Cost - $2,277.90
Average campground cost - $14.06, Most expensive $57.81 at Shenandoah Valley in PA, Least expensive $0.00 at a couple of places, including Dome Rock in Quartzsite.
Total Fuel Cost - $1,687.57
Average cost of gas - $2.25, Most Expensive $3.00 in Anthem, AZ, Least Expensive - $1.50 in Rock Island, TN
Average towing MPG 12.49
Average overall MPG 12.66
Towing mileage - 7290.6
Total Overall Mileage - 9062.7
Total Propane Cost $110.16 for 41.44 Gallons
Until The Next Trip -
---
This page is maintained by: vermilye@oswego.edu
Last Update: March 30, 2020