Oswego Harborfest 2017
Back to the Home Page
All photographs Copyright © 2017 Jon R. Vermilye
Harborfest Fireworks 2006
Harborfest 2007
Harborfest 2008
Harborfest 2009
Harborfest 2013
Other Pages:
Animals & Insects
Birds
Chipmunks
Flowers
Landscapes / Scenic
Lighthouses
New England & Nantucket
Oswego
Other Images
State & National Parks
Theatrical Images
Waterfalls
---
I've been away from Oswego for all the Harborfests since 2013, with A Cross Country Trip in 2014, a 2015 trip to Alaska & a 2016 trip to New England. This summer I will be in Oswego for the festival so I hope to photograph it. I'll add a photo or two per day here, and a link each day to a page with more.
The Oswego Harborfest is an annual event that draws well over 100,000 people to the Lake Ontario waterfront community for 4 day festival. There are entertainment stages located throughout the city, as well as many other programs & presentations, food booths, a midway with rides, and a 23 minute "Fireworks by Grucci" show on Saturday night presented by Entergy.
Thursday, July 27:
Thursday was the official opening of Harborfest. Not too crowded - that might have something to do with the fact that it rained all morning and well into the early afternoon, Around 3:00 the sun came out and the booths started up and a small crowd moved into the park.
I wandered around taking photos of the set ups, had an early dinner at the Greek Gyro booth, and checked out the hillside facing the fireworks. The rules are that you are not allowed to put tarps or blankets down until Saturday morning, however at 3:30 there were two set up under the sign saying not to. Since I like to follow the rules, I hope I can squeeze in a space to shoot. They are usually some of the best fireworks I've seen.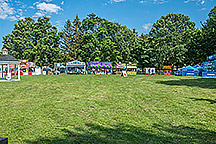 Breitbeck Park is Empty!
Friday, July 28:
Friday was a beautiful day with temperatures in the mid 70's, and a few clouds. I wandered around the different parks, taking photos of some of the activities.
| | | | |
| --- | --- | --- | --- |
| | | | |
| The Amusement Area | Pony Rides | Free Books | East Park Entertainment |
Saturday, July 29
Saturday, July 29 Photos:
Saturday usually has the largest crowd, with parking difficult or far away. I was lucky & found a spot just outside the park. Of course the closer you park, the longer it takes to leave since you have more people & cars filling up the roads. It took the usual 45 minutes to drive the 2 miles to home.
I wandered around taking photos. I managed to find where the helicopter rides were located. $20.00 for a 2 minute buzz over the festival. Long lines throughout the day. I looked for a location for shooting the fireworks, and was able to combine the location for fireworks photos and the water ski show, right on the edge of the water.
| | | | |
| --- | --- | --- | --- |
| | | | |
| Tarps on the Hillside | My Fireworks Location | Water Ski Show | Fireworks By Grucci |
---