Letchworth Visit, 2009
Letchworth State Park Visit, 2011

Another trip to one of my favorite New York parks. Letchworth is sometimes called the Grand Canyon of the East (I know, ever state but Florida has a Grand Canyon) but the canyon through the park is impressive, particularly in the fall.
I packed up the trailer & made a visit starting on Labor Day. Weekends are still booked solid, so we will be leaving on Friday. Anne & Guido are camping in the site next to me. Probably the last camping trip of the year for both of us.
Day 1:
Letchworth State Park is about (well, exactly, according to my GPS) 114.9 Miles from Oswego. I've visited the park many times; when my daughter was a student at Geneseo State University we often took her, her friends and roommates to the park for a picnic. I've only camped here a couple of times, usually on the way to & back from the West.
Anne & Guido called & suggested that we try to get a site for the week. Forgetting that today is Columbus day, I checked Sunday through Friday & nothing was available. Looking for Monday through Friday, we found a couple of sites next to each other. So, we are in sites 514 & 516. Strange site numbering - odd on one side & even on the other, but there are twice as many odd sites, so, for example, site 531 is across the street from 516.
The official check in time is 5:00PM (check out 10:00AM) but they will let you in once they clean the site from the previous visitors. I arrived around 2:30 with no problems. Even used their early check in which lets you print a copy of the paperwork & hand it in as you arrive. The entire process took about 30 seconds. Sites are 30 amp, no water or sewer for $25.81 per night including the "transaction" fee of $7.25.
A pretty shaded site with a bit of gravel but mostly dirt. Level enough (if you move the trailer around enough to find the level part of the site). Not too far from the bathrooms, which, unlike Green Lake, do not have kitchen sinks.
Don & Anne, Site 514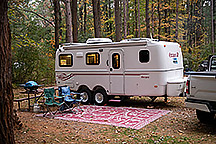 Me, Site 516
We didn't do much besides set up the trailers & put together dinner which was Linguine & Clam Sauce.

Tuesday, 10/13/20, Day 2:
Light rain after midnight until around 7:00AM, glad I put the chairs back in the truck. Overnight temperature was around 55°F, but it didn't warm up very much during the day.
I walked around a couple of the camping loops before breakfast. They are all numbered the same way, making it a bit confusing unless you stick to the numbers on your side. We had a choice of our sites or a pair in the 400 loop - 406 & 408. I'm glad we took the 500 sites - while the map shows both pairs of sites next to each other, 406 & 408 have a small forest between them. I saw an Escape 19 in one of the 400 loop sites.
There is a very useful website called Campsite Photos on line, I do wish they also included an image that showed pairs, or groups of sites. The close up image of a site is useful, but if you are trying to find a pair of sites to camp with friends, the individual images don't show how close the sites are to each other. The worst case for this was on a trip to New England. We reserved (over the phone) two sites & asked if they were next to each other. They said yes, and technically they were, but there was a playground between them. Makes it difficult to share cooking dinner, etc.
After hanging out in the trailer most of the cool, damp morning, we headed out to check out some of the waterfalls.
| | | | |
| --- | --- | --- | --- |
| | | | |
| Upper Falls & RR Bridge | Upper Falls | Anne & Guido | Below Middle Falls |
| | | | |
| Middle Falls | Middle Falls | Mary Jemison Cabin | Mary Jemison Cabin |
| | | | |
| Mary Jemison Statue | Mary Jemison Statue | Mary Jemison Cabin | Nice Tree |
| | | | |
| View From Inspiration Point | The Falls | View From Inspiration Point | Along the Canyon |
Back at the trailers we sat around a campfire for a bit, then had Impossible Burgers, corn on the cob & coleslaw for dinner.

Wednesday, 10/14/20, Day 3:
A very slow start to the morning. My excuse is it was colder, both out & in than yesterday. 47°F outside & 57°F in the trailer. I didn't get out for my walk until 9:00. After that it was reading my usual on line forums, a bit on Facebook, and reading. Current book is Mark Dawson's The Jungle, the 7th in the John Milton series. I've enjoyed all of them. John Milton is a bit of Lee Child's Jack Reacher character, however enough different to be interesting. I still have many more to go.
We finally got our acts together around noon & headed out to see the dam. It is unusual, as it is a dry dam. The only time it fills is during flooding conditions to protect the downstream areas, including the city of Rochester. A sign near the dam notes that it cost $25 million in 1950, however has saved over a billion dollars of flooding damage since that time.
I was always confused that you could not see the river behind the dam. It wasn't until years after my first visit that I drove to the other side of the dam, and looking back, saw the river tight against the other bank. The other interesting thing at the dam is a sign noting that there are eagles in the area. In smaller letters it also notes that there are turkey vultures. I constantly see parents pointing out the circling turkey vultures and telling their kids "look at the eagles!" So, I'm including a photo of an "counterfeit eagle"
After the visit to the dam it was a late lunch at the Lower Falls restaurant , then down the 127 steps to the view point for the Lower Falls. This is both my favorite of the three waterfalls, and my favorite place for photographing it. Still, hauling myself, the camera & heavy lenses & tripod back up is getting to be a chore. Lots of folks taking pictures and wandering around, but I managed to get a few images in between people.
| | | | |
| --- | --- | --- | --- |
| | | | |
| Dam From The East | Dam From the West | Dam From the West | Canada Geese |
| | | | |
| An "Eagle" (Turkey Vulture) | Lower Falls | Lower Falls | Lower Falls |
| | | | |
| Lower Falls | Lower Falls | Lower Falls | Genesee River Below the Falls |
| | | | |
| Genesee River Below the Falls | | | |
After that it was back to the trailers for a bit of R&R. We had a big lunch, so dinner will be late & sparce. The plan is Turkey Bubba Burgers and a salad.
Thursday, 10/15/20, Day 4: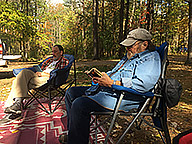 Goofing Off
Pretty much goofed off all day, although I spent the morning making a blueberry pie. We did some reading, walking, and sitting around. While I didn't take any photos, Anne caught Guido & me. It started to rain around 5:00. I had already packed up the awning mat & the grill so I wouldn't have to put them away wet on while it was raining.
We have to be out of the sites by 10:00 tomorrow morning.
Dinner was chicken tacos.
---
This page is maintained by: vermilye@oswego.edu
Last Update: March 14, 2021