Nantucket - Friday, August 15th, 2008
Back to Jon Vermilye's Photo Page
Other Trips:
---
Thursday, August 14th
Saturday, August 16th
---
Don & Anne are leaving on the 10:15AM boat so we are spending the morning packing up. We will be heading for the ferry in a minute.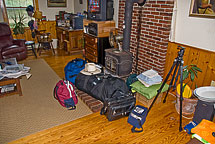 We dropped them off at the ferry. Sorry to see them go, but we are planning a trip this Fall to DC to give them a chance to meet Valerie!
Finished the wiring in the basement so David can move his freezer & stuff to the other side. A bit of a pain - we are using some of dad's left over wiring (from the 70's) - although the copper is softer & the insulation thicker, most of it is UF, a cable designed to be directly buried, and tough to strip. Anyhow, the job is done!
We had steaks for dinner - although far more expensive than our Price Chopper steaks in Oswego, they were much better quality.
With everyone gone & the construction shut down, it is quiet tonight. Of course it may get a little more active in the morning. We are picking Karin & Valerie up at the airport tomorrow at 10:30 AM.