The Quartzsite Gathering, 2016 - February 8th - 14th, Page 1
Back to the Home Page
All photographs Copyright © 2016 Jon R. Vermilye

Other Pages:
Animals & Insects
Birds
Chipmunks
Flowers
Landscapes / Scenic
Lighthouses
New England & Nantucket
Oswego
Other Images
State & National Parks
Theatrical Images
Waterfalls
RV Related Pages
Fiberglass Trailer Information
---
For the second time I decided that my home town, Oswego, NY, which gets between 150" - 200" of snow each year is wonderful in the summer, but maybe a good place to leave for the winter. So, this year I headed south & west. This time I decided to spend most of the winter in Quartzsite at the LTVA (Long Term Visitors Area.) For $180.00, you can stay 7 months with the use of a dump station, dumpsters for trash & fresh water. No hookups, but I have enough solar that I don't need them. I end up driving to the dump station and filling my fresh water tank around every 2-3 weeks. While I still think it was a good idea, for the months of November & December, it was warmer (at least at night) in Oswego, NY than here. Anyhow, I was still in Quartzsite for the Fiberglass Rally.
This year they had an early start date of Monday, February 8th, so naturally I moved from the La Posa West LTVA to here on the 1st. Just a couple of other trailers, but by Monday, the 8th there were over 70.
Monday, February 1st
My Site at Dome Rock
Glenda & Wendy
Pretty Empty!
Some of the campsites here are works of art. Since my name isn't Kate, I didn't feel right taking the place pictured below, but they did a lot of work on the site:
| | | |
| --- | --- | --- |
| | | |
| Kate's Site | A Fancy Fire Pit | A Big Lizard |
Tuesday, February 2nd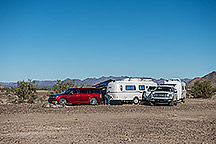 Olivers & a Casita
Tuesday, February 9th
One Sunblocker Leaving, One to Go!
People & Trailers
People & Trailers
People & Trailers
People & Trailers
Warming Up
The Host Table
People & Trailers
Panoramas
Wednesday, February 10th
Some Early Morning Photos:
And Later in the Day:
Since the first page of rally photos is getting a bit large & slow to download, I have started a second page.
---