2015 Trip to Alaska & More
Day 69 -
2011 Trip across the US
2012 Trip across the US
2014 Trip across the US
Other Trips
Saturday, August 15, 2015, Kearney RV Park, Kearney, NE - 291.9 Miles Today, 9698.1 For the Trip
More running east on I80 today. It started out with a surprise - no AC. Now it was 7:45AM & already 75°F, with a predicted high of 97°F so I was a bit concerned. I remember our 96 cross country summer trip - My late wife Carol & I in a 90 Dodge Caravan with very good air conditioning, and our traveling companions in their "Yoda", an older 4 cylinder mid engine Toyota minivan that lost its AC a couple of days before the trip. They used spritz bottles to mist the air coming through the windows (which, on many days completely evaporated before it reached their faces) while we stayed cool & complained when we had to get out of the van and into hot tents. This was their chance to get even!
The RAV4 Sport has manual AC/heating controls, and I always leave the fan on 2 unless I need more. It has never been off since I owned the vehicle. A big but - I was on the cell phone sitting in the RAV4 because I needed the amplifier to keep a connection & turned off the fan to be able to hear. I didn't notice that that was why no AC; a twist of the wrist & everything was back to normal. I really would have felt stupid pulling into a Toyota dealer to have it fixed!
So, that was the excitement for the day. I stopped in Kearney, NB (boy is Nebraska a wide state) at the Kearney RV park. I'm in site 5 in the North Campground (they have 2), a full hookup for $36.15 with the Good Sam's discount. Still a bit close to the interstate, but not as bad as last night. I went through another time zone, so I'm only an hour behind Oswego. I called my son Kyle to let him know I'd be home early.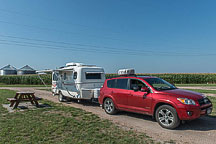 Dinner will be a baked cheese burrito cooked in the toaster oven outside on the picnic table. It is still hot enough that I probably won't have to plug it in. We'll see how the stomach holds up!
Until Next Time -
---
This page is maintained by: vermilye@oswego.edu
Last Update: August 16, 2015